Nail art ideas and color trends straight from the spring 2020 runways.
The spring 2020 runways served up major manicure inspo—from wild '80s prints to a fresh take on the French manicure. Ahead, the coolest nail art looks to inspire your next salon appointment, plus the nail polishes you need to get the same exact look.
1. Pattern Play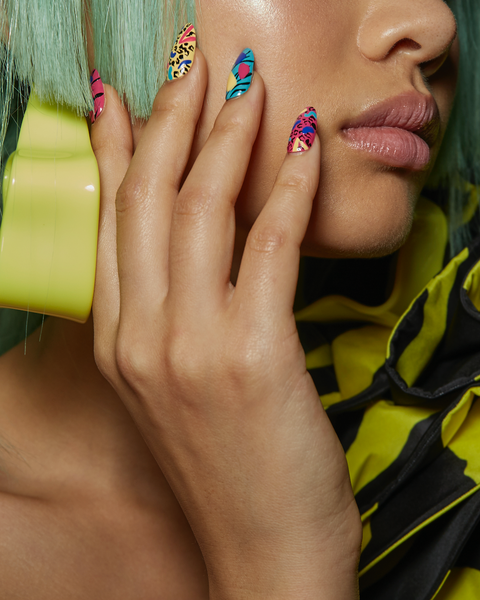 "We're leaning into the wild side of the '80s," said manicurist Miss Pop. She used a combination of No Place Like Chrome, Mod Square, In the Cab-ana, Butler Please, Hay There, and Licorice from Essie to create the geometric look.
2. Pattern Play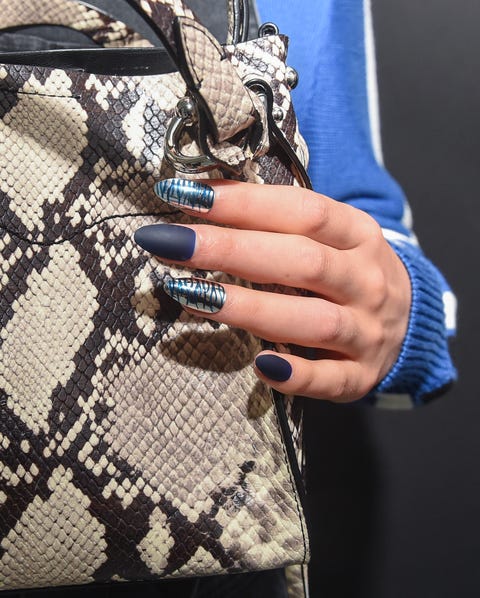 "Women are looking for fun, relatable nail looks for everyday," nail artist Gina Edwards said backstage. "I wanted to play up the fun wearability of Rebecca Minkoff's Fall 2019 Collection with wearable KISS accent nails. Each design is on trend without being overbearing."
3. Pattern Play
The brighter and bolder your nails this season, the better. Turn to vintage patterns if you need inspiration for a colorful design.
4. Pattern Play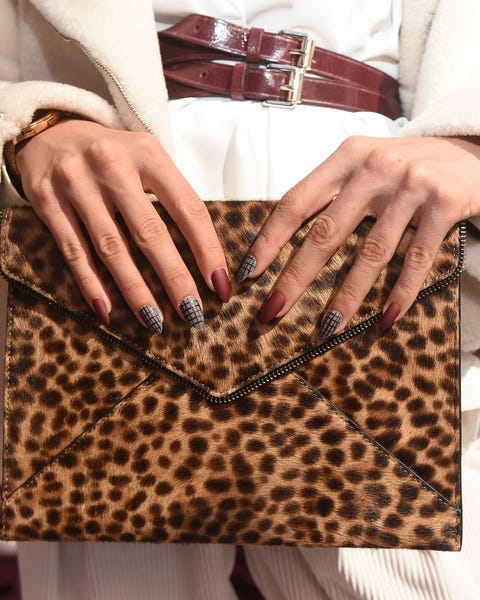 Edwards used KISS Gel Fantasy Nails in Bookworm, KISS Halloween Gel Fantasy Nails in Binx, Haunted, Skellington, and Cruella ($7.99/KISSusa.com, ULTA and Walgreens), KISS Masterpiece Nails in Kitty Girl ($11.99/KISSusa.com, CVS and Walgreens), and KISS Nail Art Paint ($6.99/KISSusa.com).
5. The New French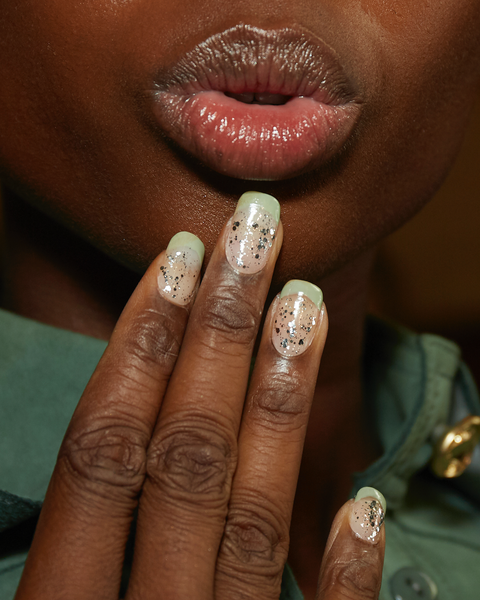 Julie Kandalec paired a seafoam green nail polish with a silver chunky glitter to create one of the freshest takes on a French mani we've ever seen.
6. The New French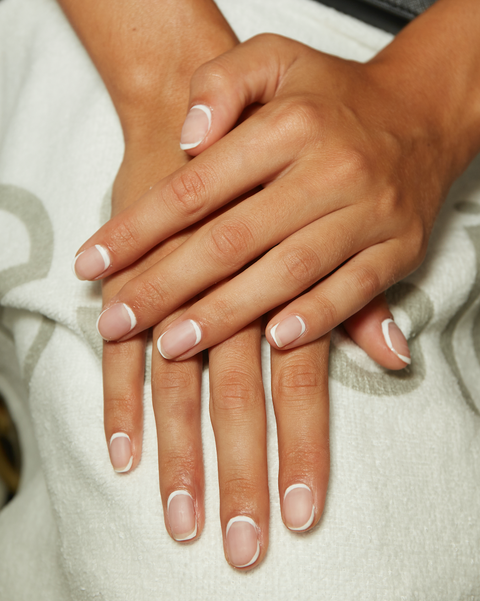 Nail artist Betina Goldstein created a "double-corner French" manicure for Kith using Essie Mademoiselle and Blanc.
7. The New French
Another fresh take on a classic: a French manicure with tips done in gold foil instead of creamy white polish.
8. The New French
"The collection was inspired by this idea of Americana classic. The French manicure has always been a timeless nail look but just like this 'New America', we wanted to add a bit of a twist," said Miss Pop, Lead Manicurist for ZOYA at Prabal Gurung.
9. The New French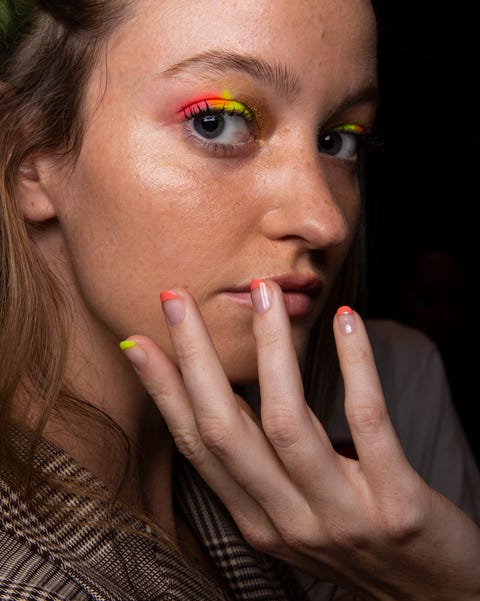 Nails were also painted in a French Manicure style backstage at Nicole Miller, but the tip was painted a striking shade of orange, pink, or yellow.
10. The New French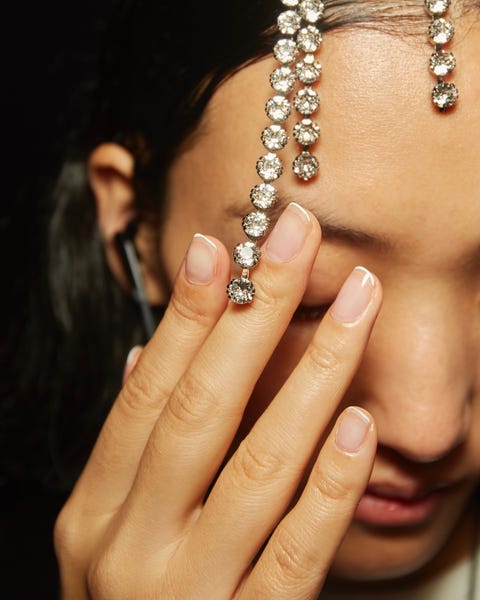 "The look is romantic, clean, and minimal," Goldstein said of the '90s-inspired classic French manicure with a razor-thin tip at Khaite.
11. Purple Skies
Chanel is always leading the pack when it comes to nail color trends, and so you can expect their new desert sunset-inspired spring/summer 2020 collection to be all over your Instagram this season.
12. Purple Skies
A matte and graphic take on the purple sunset trend by nail artist Alicia Torello.
13. Purple Skies
Kandalec took her Chanel polishes to Joshua Tree National Park, where the desert-inspired shades looked right at home.
14. Purple Skies
Love two nail polishes and can't decide on just one? Don't. Who says you have you paint every nail the same color, anyway?
15. Modernism Mani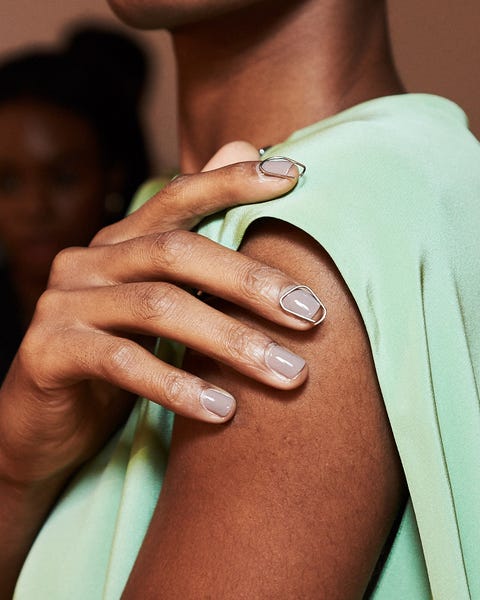 Legendary manicurist Jin Soon Choi created this "loopy hoop" look backstage at Tibi that put a fun and modern twist on a nude nail.
16. Modernism Mani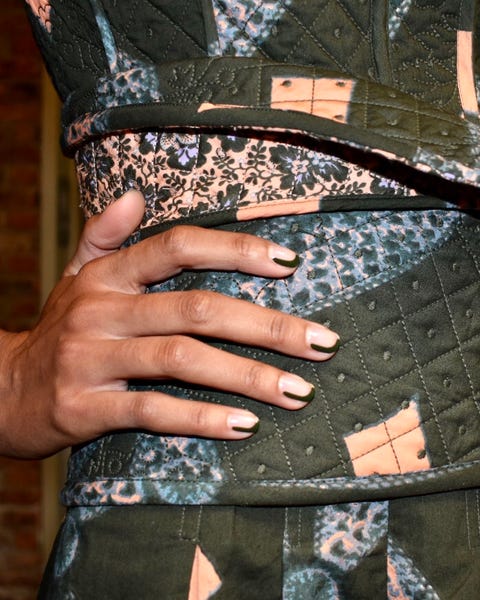 "We were inspired by Ulla's stunning color palette of mossy greens and terracottas, as well as her creative use of gradual flows of colors. Creating a partial outline of the nail with this curvy design gives the nails a sexy edge by exposing the natural nail while slightly framing it with a rich pop of color. Natural hand movements reveal both bare shine and an unexpected graphic detail," says Mabelyn Martin, Paintbox Creative Director.
17. Modernism Mani
Graphic silver painted in an Art Deco design looks so cool when paired against a rose quartz backdrop.
18. Modernism Mani

There were six different nail look backstage (including, yes, a take on a French manicure) but our favorite by far was this black-and-white dotted look created by Choi.
source: Harpersbazaar