Great ready to book your next manicure, because this nail inspo is going to make you want a new paint job stat. Check out the best Celebrity nail designs .
Vanessa Hudgens Spidey Nails
Vanessa Hudgens spends 11 months out of the year just waiting for October to hit, so of course, before September even ended, she was prepped and ready. In her first post of the spooky season, V shared a set of matte, ombre spider web claws. Honestly, these nails could be a costume all by themselves.
---
James Charles's Pinky Drinky Nails
At this point the words "pink drink" are basically synonymous with beauty vlogger James Charles. He drinks the viral Starbucks beverage every single morning and now even has nails to match. This is a level of dedication that must be respected.
---
Kylie Jenner's Retro Rhinestone Nails
The queen of over-the-top nail designs does it again! Kylie went full on 1999, showing off nude coffin nails with a rhinestone heart.
---
Kylie Jenner's Lip Kit Mani
Kylie had her famous coffin nails transformed into teeny tiny Lip Kits. Each nail got the Kylie Cosmetics signature drip and it's a whole look. I strive to be half as extra as these nails.
---
Selena Gomez's Glossy Navy Nails
Sel is making the over-the-top jelly nails trend look totally wearable with this chic navy mani. The see-through design makes them feel super edgy, while the midnight hue keeps the vibe low-key.
---
Kylie Jenner's Tie Tye
The 1990s revival has come full circle: toe rings and tie dye are back, once again. Kylie donned both retro trends at once (plus, an ankle bracelet) while showing off her technicolor claws for the gram.
---
Kylie Jenner's Neon Stars
Alexa, play "NASA" by Ariana Grande, because Kylie has got some space. For Coachella weekend, she switched up her mani game and went for neon spangled talons.
---
Kylie Jenner's Neon Ombré
The queen of nail art is back with another stunning mani. She's serving us neons, she's serving us matte, she's serving us ombré – this manicure is every festival nail trend wrapped up in one.
---
Ariana Grande's Cow Print
Making a rare departure from her hypebae aesthetic, Ariana is rocking spring's hottest western-inspired mani trend: cow print. If you look closely, she's got little black spots all over her pure white nails. Kendall Jenner just rocked the same mani, FYI.
---
Kylie Jenner's Pink and Blue Mani
Kylie is as Kylie does, so if she posts a pic on Instagram of pink and blue talons, does that mean that she's pregnant and teasing the assigned-at-birth gender of her baby? Some fans are speculating that the mani pic is further proof that Kylie is thinking about baby number 2. One fan commented, "She's pregnant again." Could it be true?
---
Kylie Jenner's Pink Chrome
Quick! Call your nail salon and see if they can fit you in before midnight, because this futuristic paint job is perfect for 2019. Every other NYE mani is so 2000 and late.
---
Rihanna's Fiery Crimson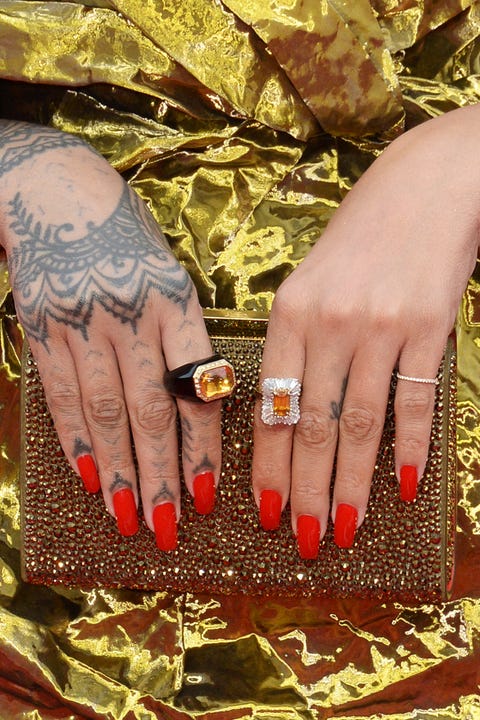 If Riri were a nail color, this badass neon red would be her ~soul shade~.
---
Kylie Jenner's Pearly Sheen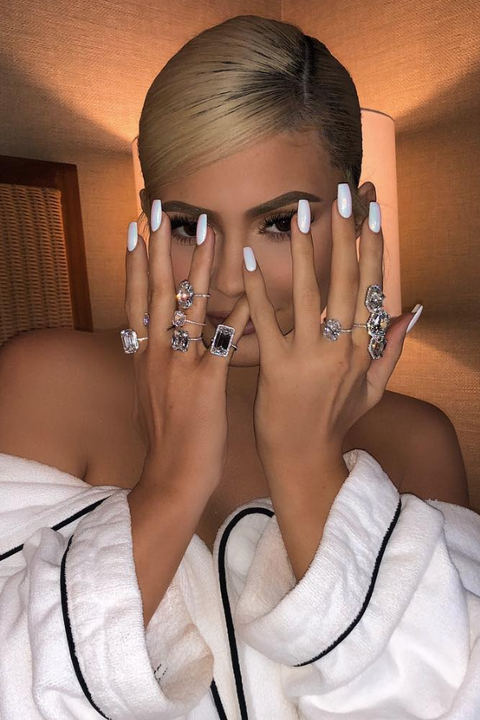 Since we were all distracted by Kylie Jenner outfit repeating at the 2018 VMAs, you probably missed her epic mani. She rocked an icy white coffin nail with a pearly iridescent coat – oh, and a fistful of diamonds, nbd.
---
Vanessa Morgan's Girly Nude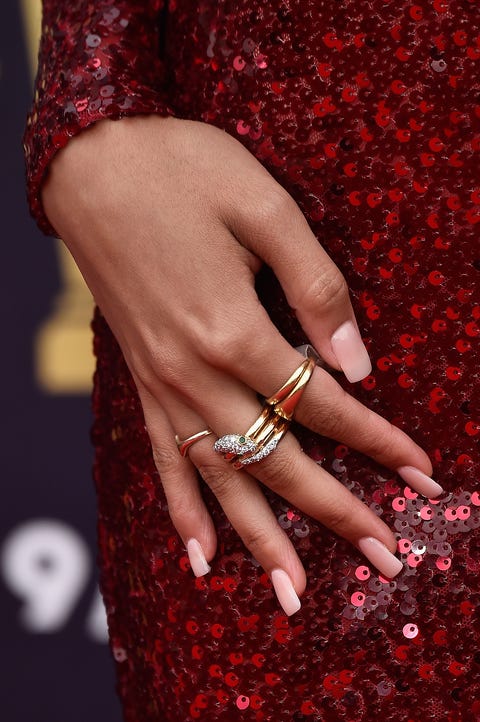 The Riverdale star went totally Cheryl Blossom with this prim blush polish.
---
Meghan Trainor's Rose Gold Shimmer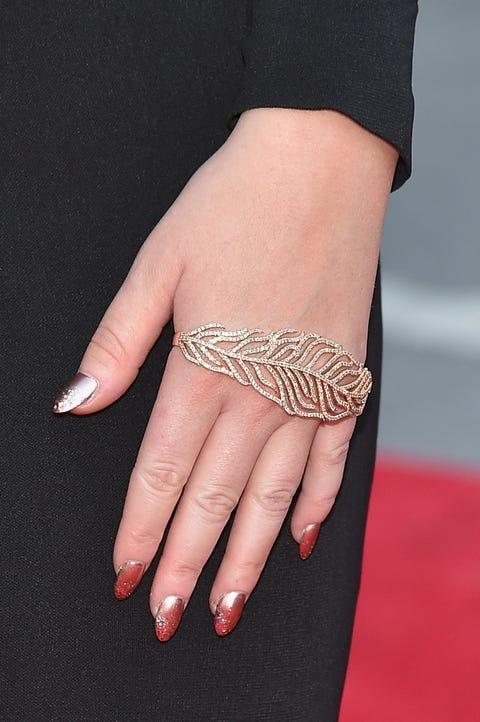 I'm all about that bass, but girl, let's talk about this nail color! Meghan stunted with glitter-tipped rose gold nails.
---
Nina Dobrev's Artsy Paint Strokes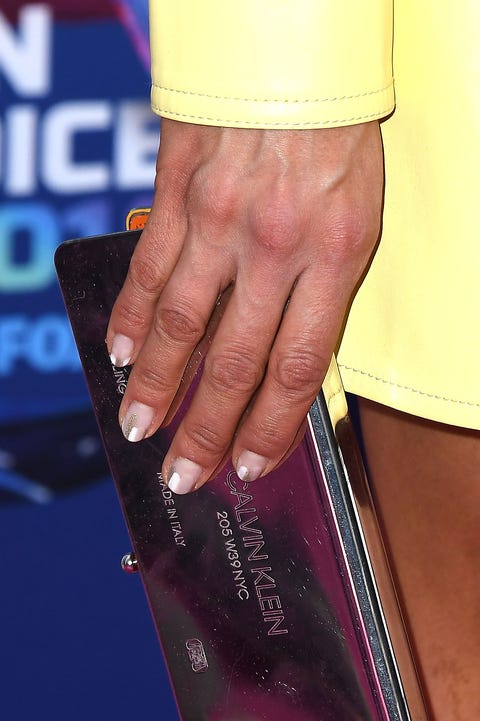 Nina rocked a simplistic abstract nail that's actually super easy to recreate. Just make a single stripe of different neutral shades across the tip of your nails, then cover with a clear coat.
---
Patrick Starrr's Crystal-Studded Nails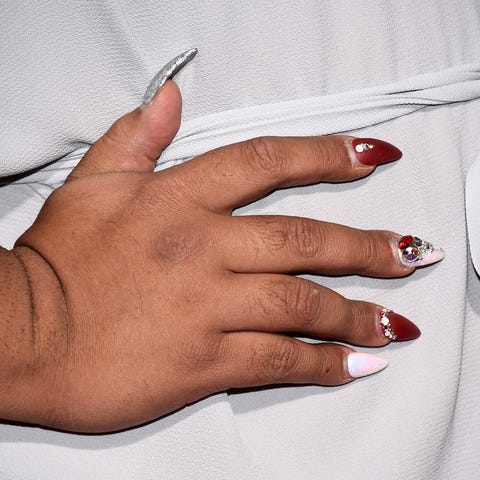 Rhinestones, glitter, blood red, and a touch of hologram – these nails are just as wonderfully extra as the beauty guru himself.
---
Kylie Jenner's Squad Nails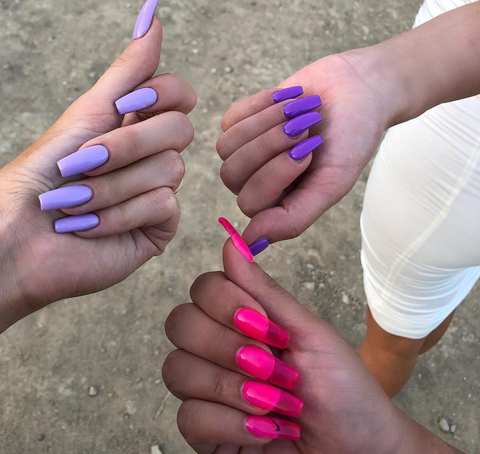 King Kylie and her besties Anastasia Karanikolaou and Heather Sanders went for complimentary coffin nails. Bonus points to Heather for those sick Nike swoosh jelly nails.
---
Yara Shahidi's Reverse French Mani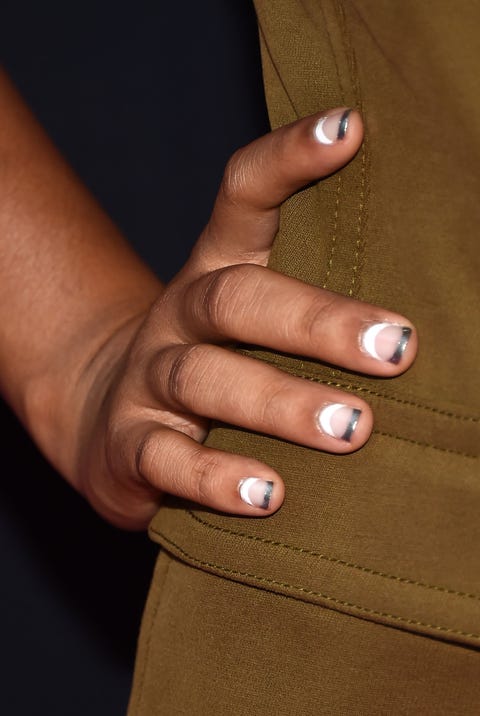 This is a cool 2018 update to a classic French tip. White on the bottom and a punch of metallic on top.
---
Cardi B's Neon Glimmer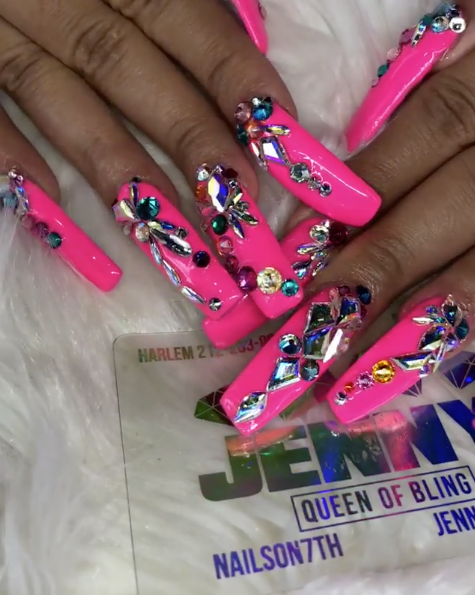 Cardi came through drippin' with these neon pink rhinestone-studded talons.
---
Rita Ora's Sequined Rainbow Nails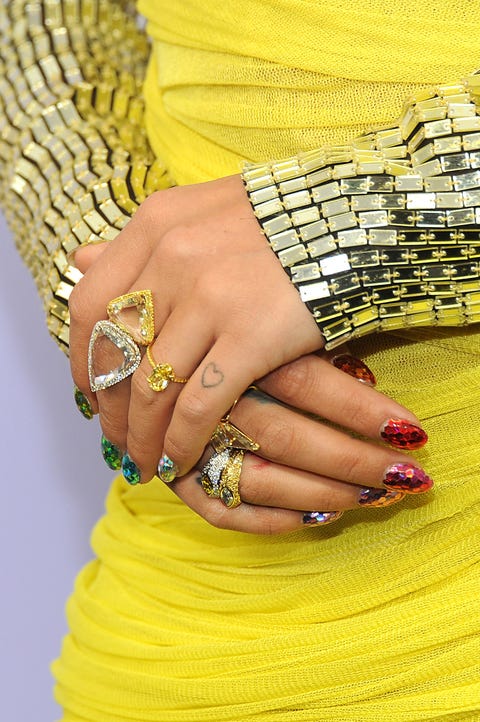 Calling all mermaids! This sequin-covered mani looks channels the metallic glint of a fish's scales. So glam.
---
Kim Kardashian's Conversation Heart Mani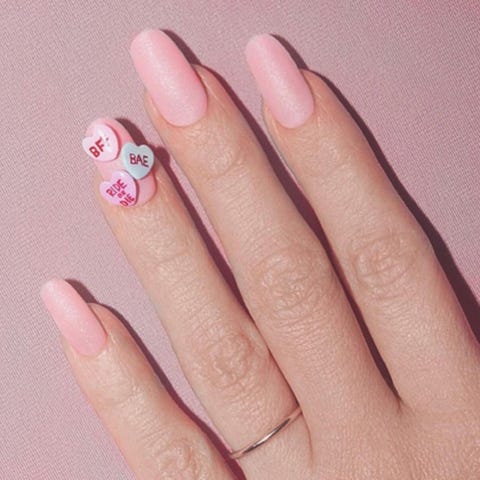 For her heart-themed photoshoot for her new Kimoji fragrance, Kimmy added tiny (faux) candy pieces to her pastel pink nails. Major V Day inspo.
---
Bella Thorne's Iridescent Green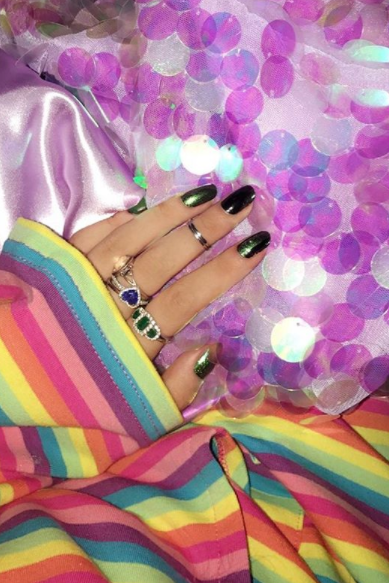 Furthering her love of all things sparkly, Bella showed off this shimmering mani in a shade of emerald that any Slytherin would love.
---
Rihanna's Emeralds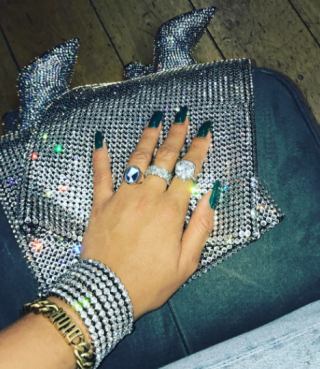 Ri's deep green nails add a fun pop of emerald to her all blue-and-diamond outfit.
---
Katy Perry's Find Me Mani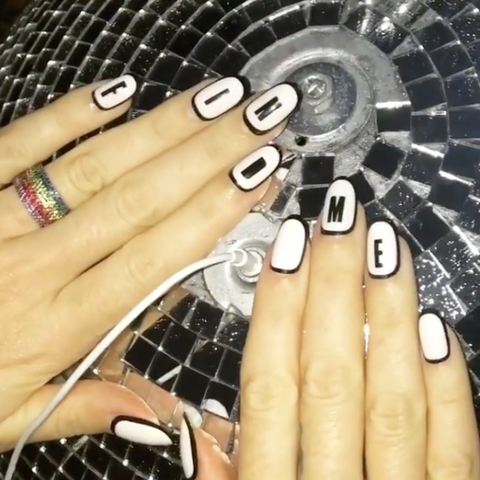 To promote her single "Chained to the Rhythm," Katy left disco balls all over the world for fans to find. She asked her followers to track them down with this cute black and white mani.
---
Kylie Jenner's Matte Blue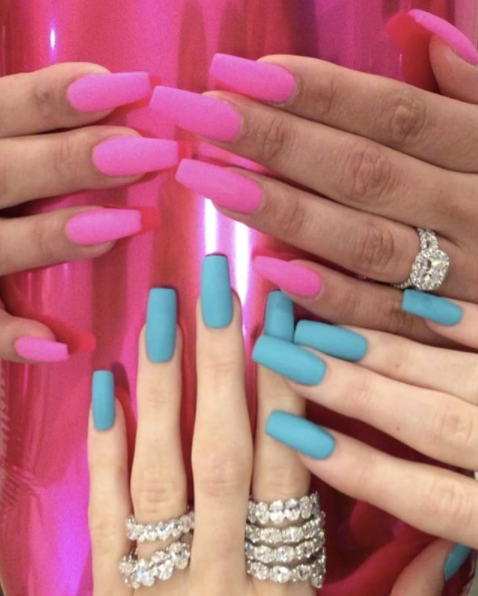 King Kylie and her friend Heather Sanders both got coffin nails — Kylie in light blue. Her mani is an exact match for Skylie blue, a limited-edition Lip Kit shade she released last summer for the Fourth of July.
---
Blake Lively's "Harry Potter" Nails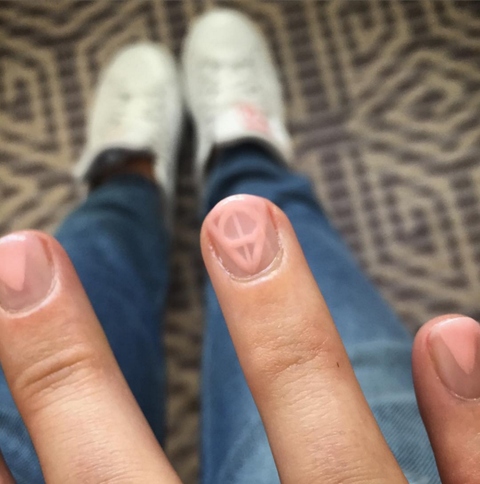 Blake embraced her inner Potterhead with this stellar blank space mani featuring the Deathly Hallows symbol.
---
Khloé Kardashian's Neon Yellow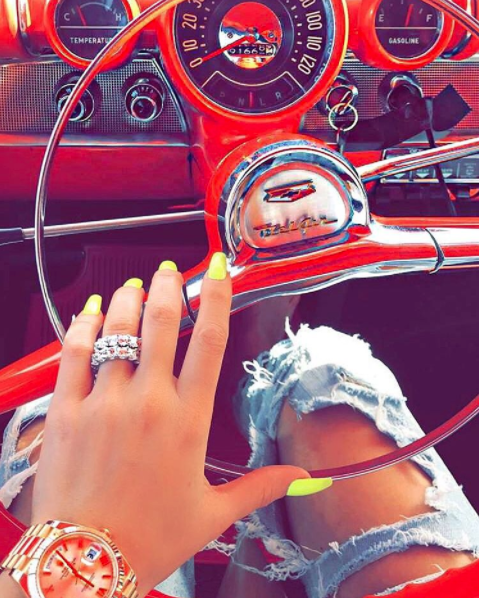 Duping Kylie's neon nails, big sis Khloé is rocking this blinding shade of yellow. In other news, I'm officially ready to break my black-only polish kick.
---
Shay Mitchell's Junk Food Mani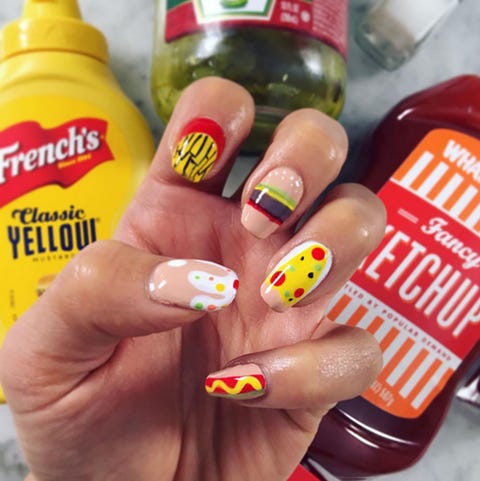 The PLL star showed off her unique junk food-inspired nail art on Instagram. These nails are definitely worth drooling over.
---
Bella Thorne's Mixed Metal Mani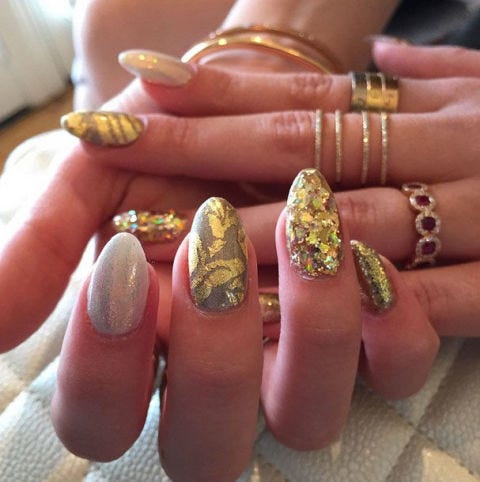 Bella rocked the 2015 People's Choice Awards red carpet in an amazing black suit, but all eyes were on these incredible nails!
---
Bella Thorne's Blue And Green 3D Mani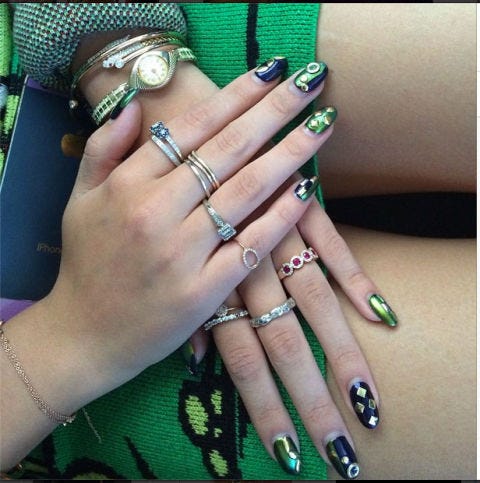 Bella hit up New York Fashion Week rocking the coolest 3D nail art! The combo of navy and emerald colors make the mani super unique. The glam design is made even better by her killer ring game
---
Troian Bellisario's Feather Mani
The PLL star showed off her super-cool feather mani on Instagram. The artsy design is totally unique, and the perfect summer-to-fall mani!
---
Zendaya's Superhero Talons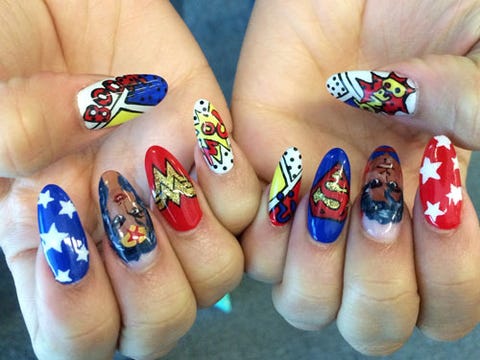 Obsessed with Zendaya's mega-awesome superhero mani. Nothing like having "boom" and "pow" written across your nails to make you feel like you can take on the day!
source: seventeen