In Valentine's day, every girl wants to be shown in the most romantic look for her beloved one or even to celebrate her singlehood, festively. But we are only will help you to wear the most beautiful valentine day nails. That will make you so confident, hot and sexy.
Here are some hot valentine's day nail designs that will blow your mind. You will definitely love them. just check out these valentine day nails and choose what suits you!
1. 3D Lips Nail Art Design
One of the beautiful nail art designs for short nails on Valentine's day, this creme matte oval nails have different color lips, especially the red one is so gorgeous!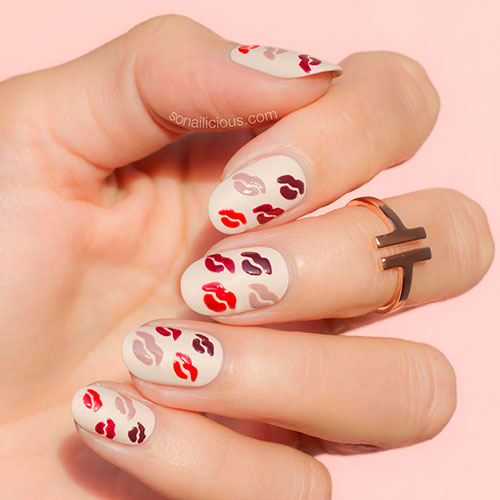 2.Simple Heart Nail Design on Short Nails
These matte short nails are amazing, the fancy combination between pink nails and the accent white nail with this small black heart is really so fancy nail art design for Valentine's day.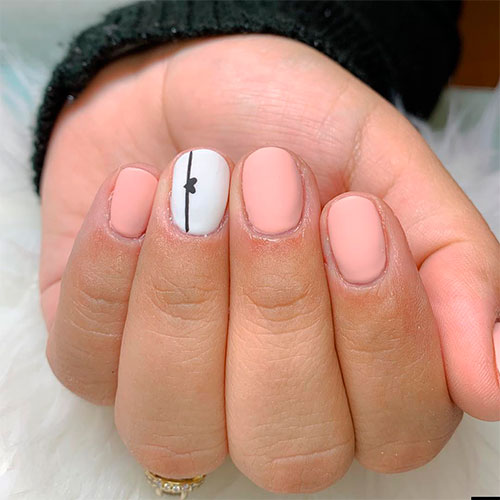 3 – Valentines Day Nails Coffin Shape
All ladies love the coffin nail designs, so I think you like this matte red coffin nails with some printed red lips over the accent white nail and the Swarovski crystals on the middle fingernail.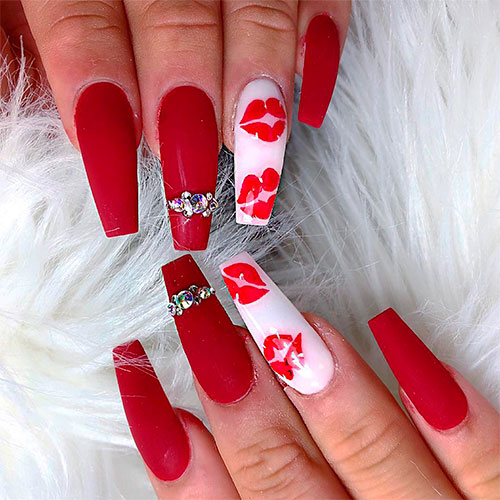 4 – Cute Heart Nail Design for Short Nails
Pink nails are always created cute nail designs, and this one is simple & gorgeous heart nail design for short nails, I really love these red hearts.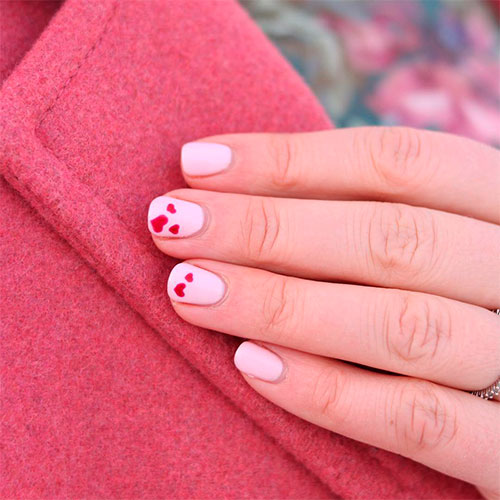 5 – Heart Nail Design on Oval Nude Nails
This heart nail design is beautiful and simple, and those red hearts on the oval nude nails are so attractive and gorgeous for a beautiful Valentine's day.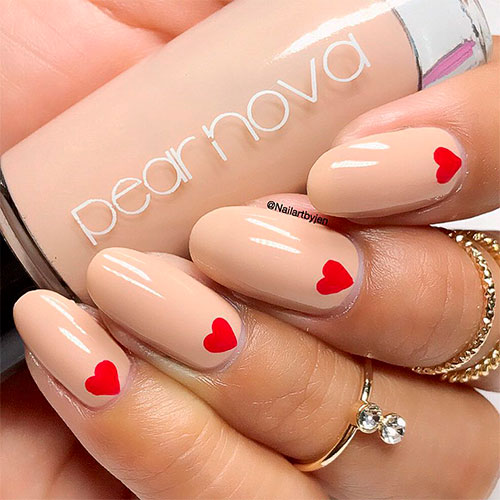 6 . Festive Coffin Shaped Valentines Day Nails
What a beautiful Valentines day nails coffin shape! I'm really in love with those nude color acrylics which combined of nude coffin nail, nude coffin nail adorned with red hearts, nude crystal bubbles nail, and an accent red coffin nail adorned with a white flower, I guess this nail set worth trying in Valentine's day.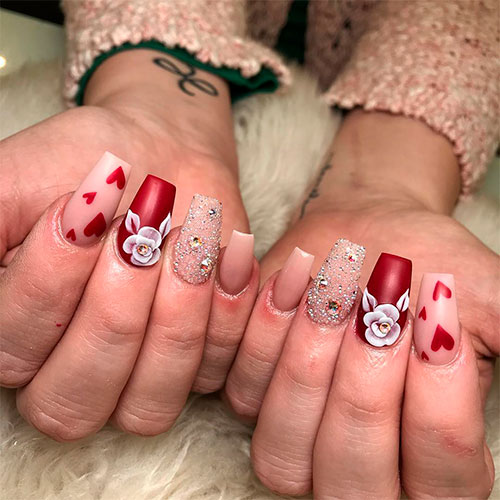 7. Cute Red, Black, and White Long Coffin Nails for Valentine's Day
These Valentin's day nails are so beautiful, see the beauty of mixing the red and black, and the gorgeous crystals that adorning the middle & finger ring nails, also the finger ring nail has cute color polishes overlapping.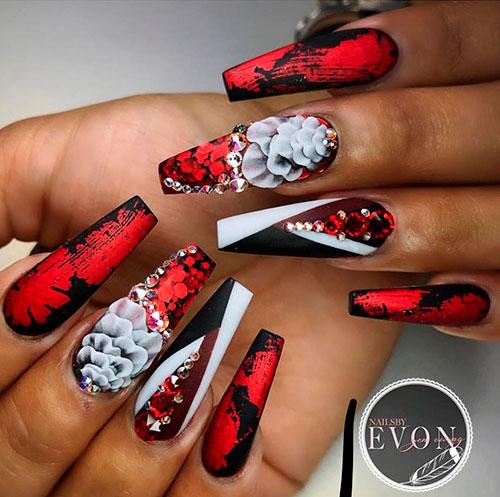 8. Beautiful Red Matte Coffin Nails for Valentine's Day
Red nail designs are so attractive especially the matte nail designs, and the nail colors that used in this design are very beautiful between red matte polish as a base nail color, and white, pink, and violet for hearts, lips and other shapes.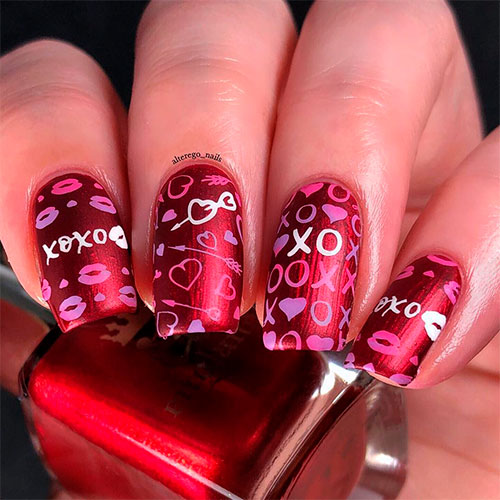 9. Cute Romantic Nails for Valentine's Day
I love red nail designs especially red and silver nail designs, so this combination between red nails and the accent silver glitter is so cute, and this couple lovers drawing on the white nail is so gorgeous and this one created with nail stamping technique over this round nail.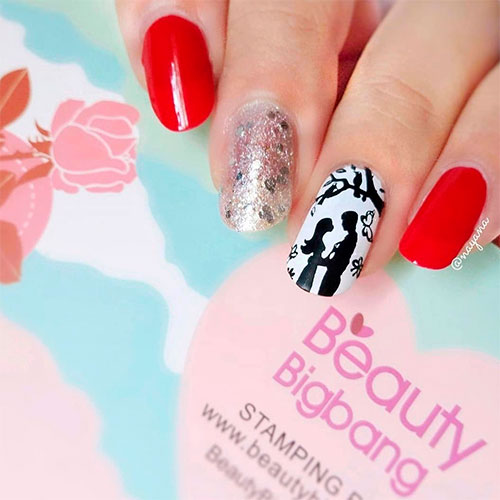 10. Pretty Pink Nails for Valentine's Day
This is really pretty pink nails and one of the best pink nail designs for valentine's day.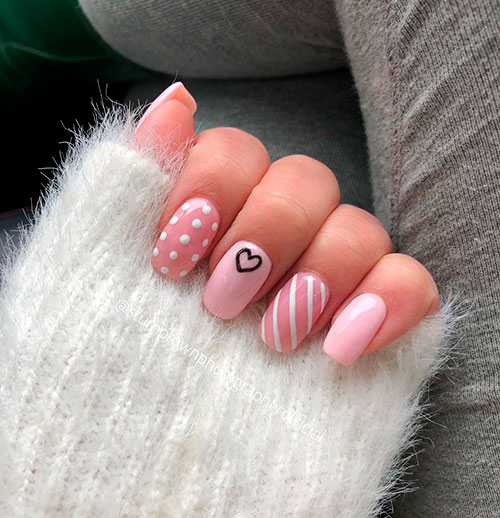 11. Gorgeous Valentine's Day Nails Coffin Shape
Cute valentine's day nails coffin shape consists of pink ombre sparkle nails, marble nails, and ombre coffin nails which, adorned with fancy crystals to create stunning valentine nails.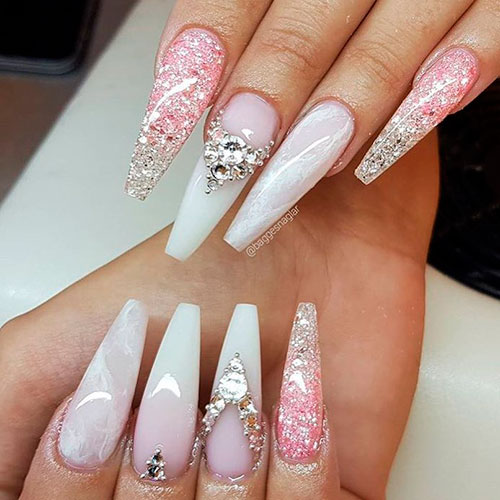 12.Cute Heart Nail Art Designs for Valentine's Day
These long almond valentine nails are so sweet, and the pink color gradient from thumb to pinky nails is so attractive, really the whole valentine nails design is romantic.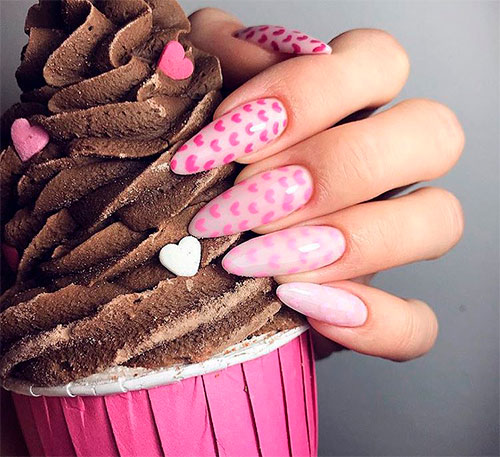 13. XOXO Hot Valentine's Day Nail Design
Gorgeous red valentine's day acrylic nails in matte style, and as you see there are four red matte nails adorned with gold foil and handwritten love & XO letters using black nail polish.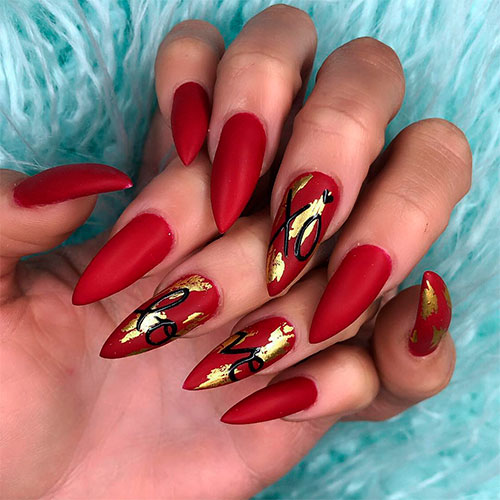 source: stylishbelles