How to Get Beach Waves Hairstyles , According to Hairstylists
Although it's nice to dream about those I-just-left-the-beach-and-there's-still salt-in-my-hair waves, that's not reality right now, especially considering that most of us are self-isolating. Beach waves usually come in handy when you're on day…I don't know…12 (you've lost count at this point) of not washing your hair and need a quick fix fast. Some of the best hair looks don't look like you tried hard at all (although waves certainly do require maintenance—a catch-22).
There's beauty in the versatility of tousled, undone, messy waves; they're the prefect hybrid between effortless and cool, which is why you see them everywhere. From the red carpet to real life, beachy waves are always appropriate. The best part: you can literally wear waves for days. It's a style that lasts—so if you're feeling lazy, waves are your friends. Here, coveted celebrity stylists share their techniques on how to get those bombshell beachy waves you want, and a few gorgeous ways to wear waves for all hair textures to get you started.
See the Most Celebrity Beach Waves Hairstyles :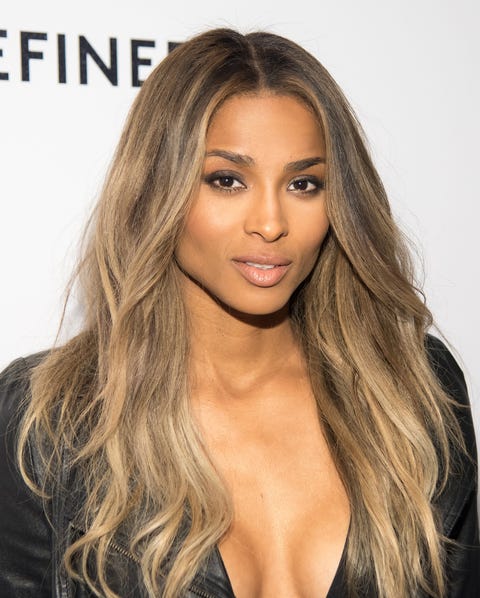 Ciara's Loose, Shaggy Waves
When it comes to waves, perfect definition is the last thing you want. Like Ciara, embrace shaggy, undone waves by taking a flat-iron, like Babyliss Pro Nano Titanium Digital Straightening Iron ($100), starting from the root to tip alternate the iron from left to right to create a soft bend. Then, after your waves have cooled for a few minutes, take a wide-tooth comb and rake it through your hair for this effortless finished look.
GETTY IMAGES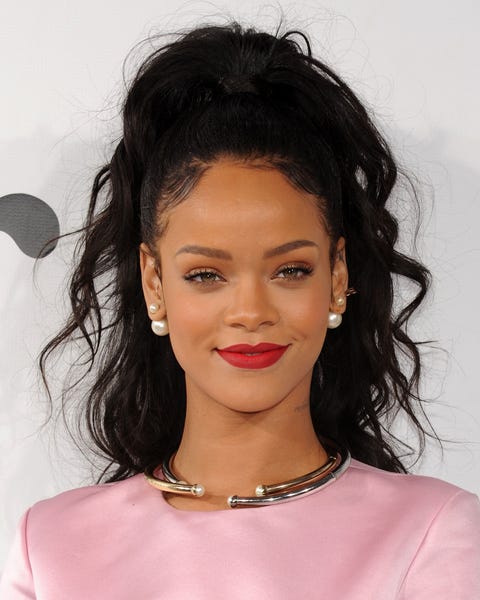 Rihanna's Half-Up Half-Down Waves
Pull half of your waves up into a high pony for a style that's equal parts fun and playful. Especially with a side of slicked baby hair, which is something Rihanna always gets so right. Once your hair is secured into a pony, take T3 Single Pass Wave Iron ($160) through a few sections of your hair. Uniformity is unnecessary with beachy waves, so you don't need to curl your whole head of hair.
GETTY IMAGES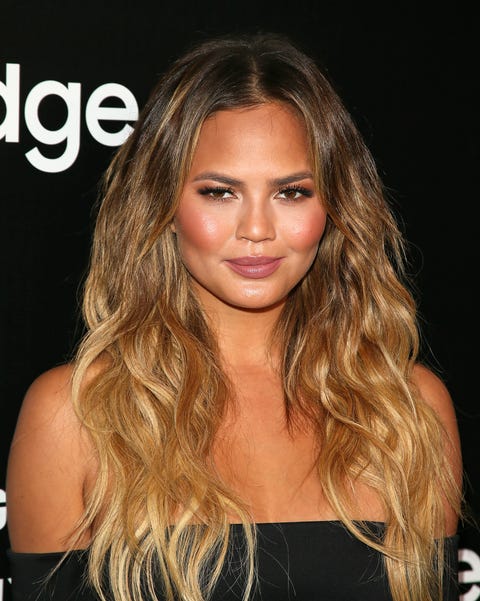 Chrissy Teigen's Classic Beach Waves
Chrissy and her glossy tousled waves have always suited her well—it's one of her signature styles on the red carpet. Adding gradual highlights adds dimension to your waves. Celeb stylist Jen Atkin shares her trick for this tousled look: "One of my favorite tricks for styling hair is 'the clip trick," Atkin explains. "This is an easy, no-fuss way to get incredible natural-looking waves. Spray damp hair generously with OUAI Wave Spray ($26), then use duckbill clips ($16) to create a dent in the hair, pushing the hair up at the root, then clipping into place, pushing the hair up underneath it, and clipping into place until the entire head has been clipped and the hair is in an S-pattern. Let your hair air dry or blow-dry over the clips. Then, remove the clips, scrunch and you've got beach waves."
GETTY IMAGES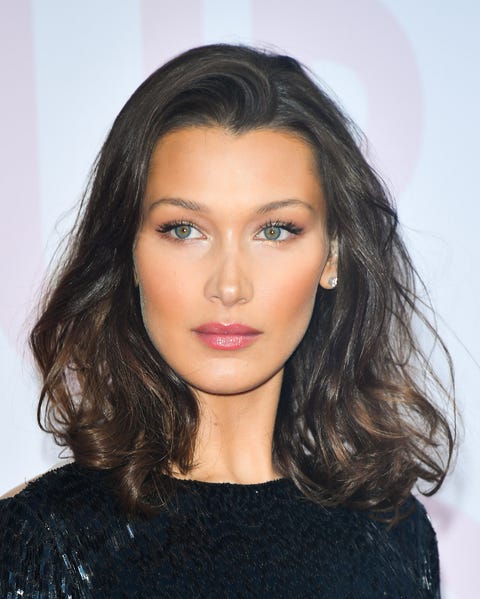 Bella Hadid's Voluminous Waves
If you naturally have fine hair, like supermodel Bella Hadid, beachy waves are a great way to trick the eye with volume. Celebrity stylist and co-founder of R+Co, Garren, recommends lathering R+Co Sail Soft Wave Spray ($29) to breathe life into limp hair. "After you shampoo and condition your hair, that's when I would apply the product," Garren suggests. "For fine and straight hair, form the waves with your hands with a wide-tooth comb and caress it with a diffuser to help dry the hair a little quicker."
GETTY IMAGES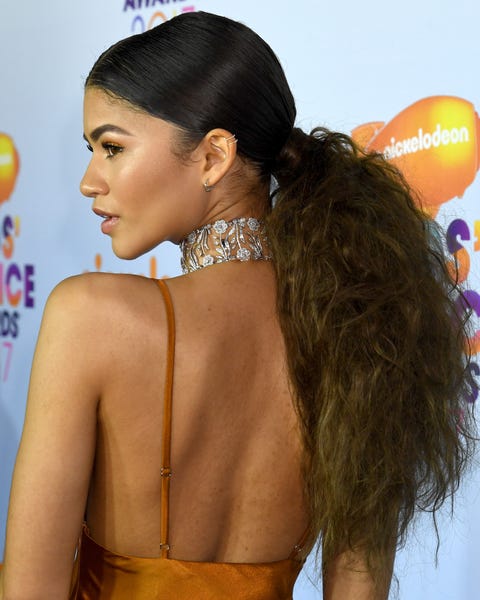 Zendaya's Slicked-Back Pony
Sleekness and waves can't co-exist…said no one ever. Zendaya's slicked-back low ponytail comes with a wow factor: massive texture. I'm so here for it—it adds such a surprising element to her sleek style. Lots of hairspray, like Verb Sea Spray ($16), is needed to tease this pony to perfection.
GETTY IMAGES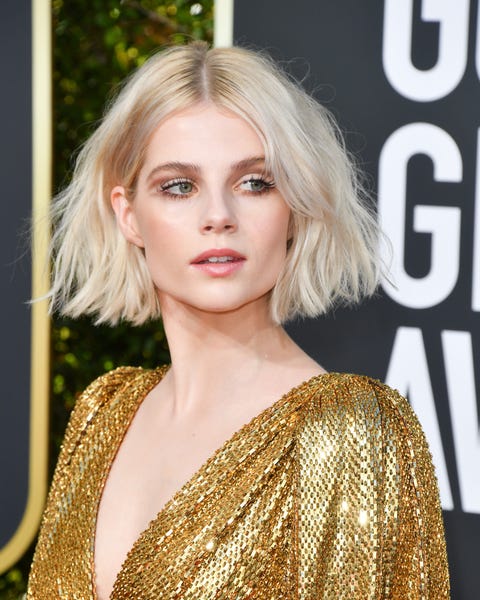 Lucy Boynton's Blunt, Wavy Bob
Actress Lucy Boynton's blunt bob proves how versatile effortless waves look at any length. A tousled texture adds a level of coolness to your cut. To extend this style, be sure to apply TRESemmé Beauty Full Volume Hair Mousse ($8), which is celebrity stylist Tyler Laswell's go-to technique to prep the hair for fab beach waves. "This is my favorite mousse for this look because it gives soft volume and touchable hold," he says.
GETTY IMAGES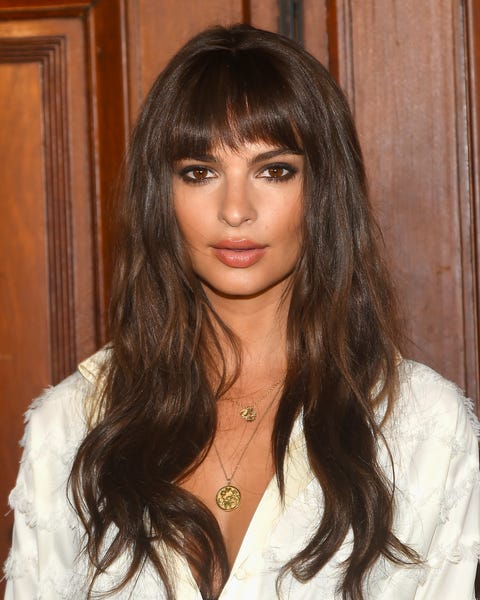 Emily Ratajkowski's Baby Bangs Paired With Beachy Waves
Does this picture make you want micro bangs right now? Same. The composition of her bangs, layers, and waves frame her face so beautifully. To recreate this style, Laswell suggests using your fingers and taking small to medium-size sections of your hair and stretching it from the root to create natural volume. "After blow-drying, take 1-inch thick, by 3-inches wide sections of your hair, and gently clamp with a flat-iron. Then flat-rock it back and forth with your wrist as you pull down the hair shaft," Laswell explains. "Finish by spritzing TRESemmé Compressed Micro Mist Hair Spray Hold Level 3: Boost ($5) all over and brush through with your fingers. This hairspray is my go-to for this look because it continues the vibe of touchable hold."
GETTY IMAGES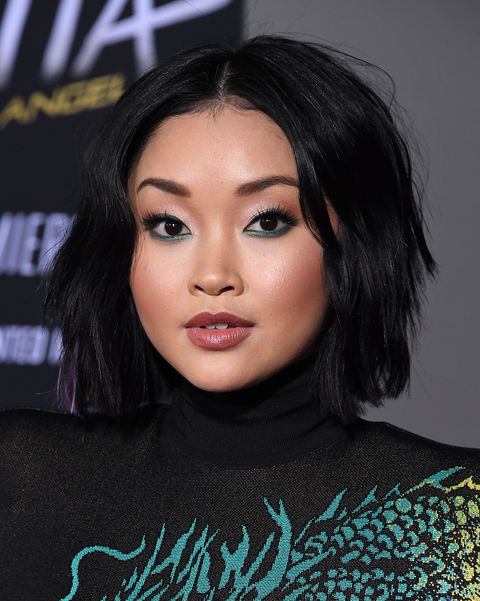 Lana Condor's Piece-y Black Bob With A Hint of Color
If you look closely, you can see Lana Condor snuck in purple clip-ins on her bob, which works so well with this fun style if you want to experiment with temporary color. She went for soft waves to add a bit of shape and structure to this blunt cut. That, shine, though, is everything. Oribe Apres Beach Wave and Shine Spray ($44) will deliver similar results.
GETTY IMAGES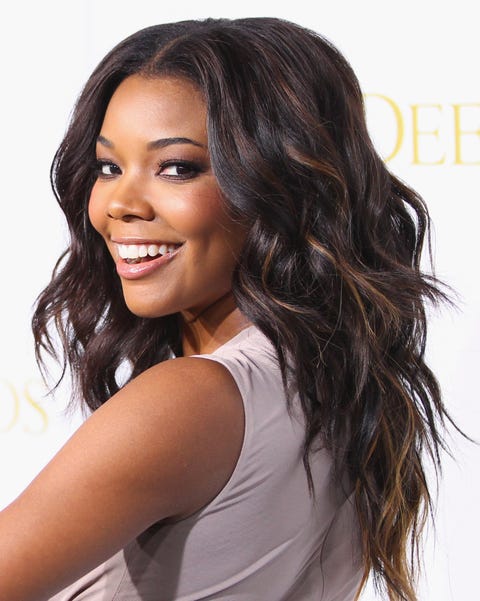 Gabrielle Union's Picture Perfect Bends
Gabrielle Union looks like a walking goddess with these waves, which are on the tighter, more defined end of texture. The best thing about waves like this is they last, so you'll have waves for days. Soon, these waves will loosen and fall, revealing a messier texture you'll still want to rock. Part your hair into sections and use the Bed Head Curlipop Tourmaline Ceramic Tapered Styling Iron ($25) for this spiral s-wave effect.
GETTY IMAGES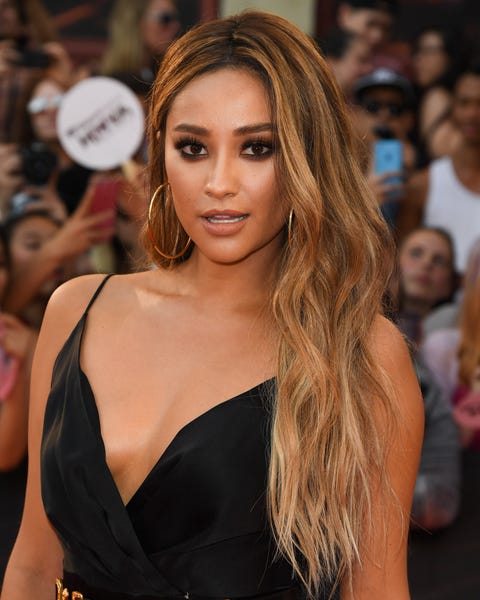 Shay Mitchell's Windswept Waves
An easy way to get tons of texture without styling tools is by twisting, braiding, or pulling your hair back into a twisted bun. Work with your texture, not against it. Don't get frustrated, though, this may take trial and error, so be patient with yourself. As you braid, twist, or wrap your hair into a bun, massage Devacurl Wave Maker Touchable Texture Whip ($26) into your hair to assist along the way. Let this protective style sit for a while, and sleep on it if you can for the best results. You'll wake up to the most natural looking waves.
GETTY IMAGES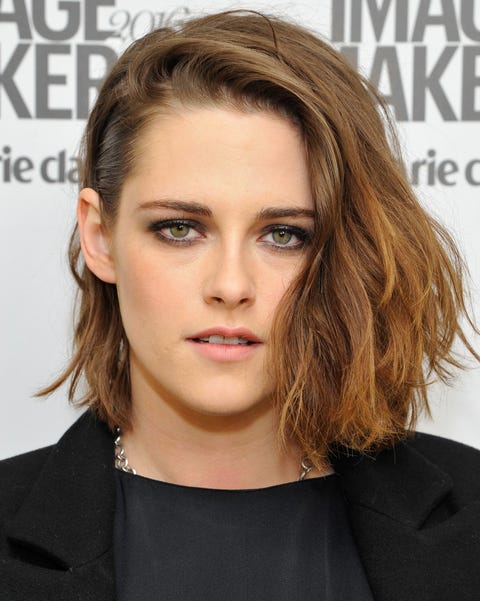 Kristen Stewart's Chic, Choppy Bob
Do you have a hair pomade like Ouai Finishing Crème ($24) laying around? Slick one side of your lob down, and amp up the other side with I-woke-up-like this waves for that "IDGAF I'm cute" look. If you need inspo, Kristen Stewart is serving per usual.
GETTY IMAGES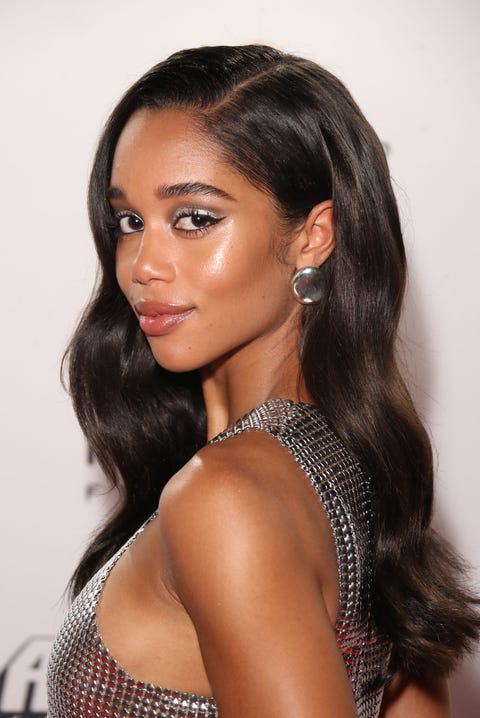 Laura Harrier's Old Hollywood Waves
To give your beach waves a classic feel, go the Old Hollywood route like Laura Harrier. It instantly dresses up your waves with a more glamorous treatment, if that's the look you're going for. Take medium-size sections of your hair, then use a large barrel curling iron, like T3 BodyWaver Professional Ceramic Styling Iron ($160), and curl it towards your face. Finish off with pin curls using clips to lock your waves in place.
GETTY IMAGES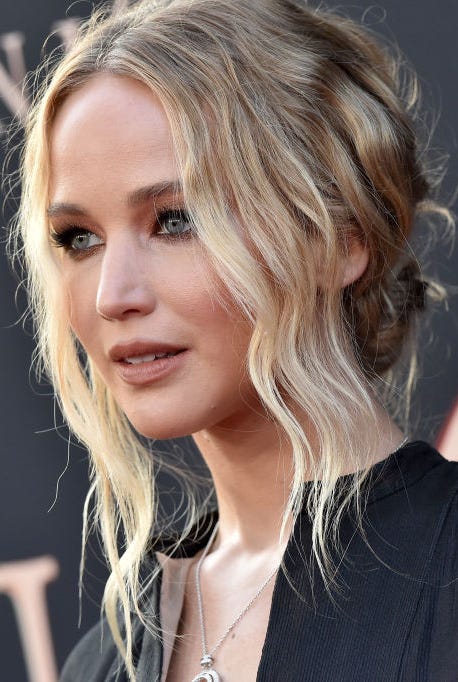 Jennifer Lawrence's Effortless Bun
All other low bun lewks can go home now, Jennifer Lawrence wins. Last summer, Lawrence pulled this off at the premiere of Fox's Dark Phoenix and turned heads (at least mine) when she stunned on the red carpet rocking this style. Low buns are inherently low maintenance, but when paired with waves, it's taken to the next-level. Part your hair down the middle and leave face-framing strands down in the front, pulling the rest back. Add a bit of texturizing spray (try: Alterna Haircare Perfect Texture Spray, $30) then you're out the door.
GETTY IMAGES
Gisele Bundchen's Shaggy (and Sassy) High Pony
You're welcome: another no-fuss style at your service brought to you by Gisele Bundchen. It's no surprise that a legendary supermodel wears bombshell beach waves well. But Bundchen's 2017 Met Gala beauty look was unexpected and fun. She simply swept up her waves into a mid-level ponytail, adding a super subtle bouffant for volume. Add Amika Un.Done Volume and Matte Texture Spray ($25) for good measure. This is all the proof that this lived-in look is red carpet worthy.
GETTY IMAGES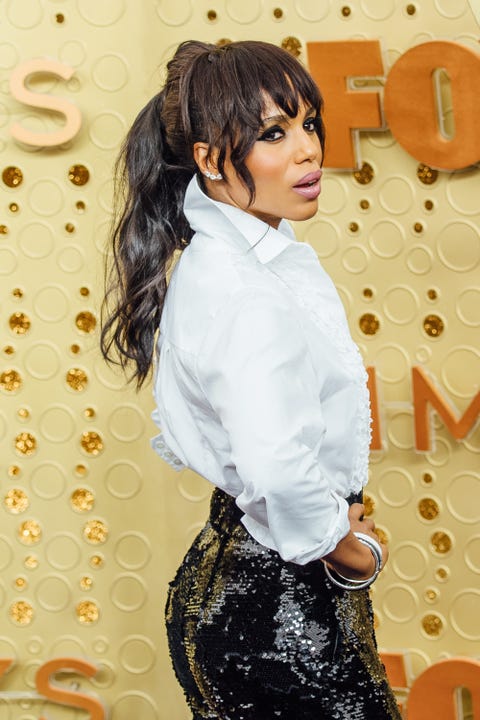 Kerry Washington's Wavy Pony Paired With Wispy Bangs
Everyone wants to feel as fierce as Kerry Washington looks in this photo (that bone structure, though). The good news is you can—just get wispy fringe bangs and style them with a wavy ponytail. Don't want to commit to cutting your bangs? No problem: clip-in bangs do exist and you'll trick everyone into thinking they're real, which is probably what Washington is wearing on this red carpet. Try the below top-rated clip-in bangs on Amazon to see what all the hype is about.
GETTY IMAGES
source: marieclaire