Braided Wedding Updo Hairstyles
Your search for the ultimate wedding hairstyle begins with the braided updo. This option checks all the boxes. This bridal hairstyle can pull off formal, casual, and everything between. It can be simple and take no time at all to perfect. Or, it can be intricate and allow your hairstyle to fuss over your look for hours. It can be a work of art all on its own, or it can match with any floral or decorative hair accessory you can think of.
The braided wedding updos does it all.
Source: hairandmakeupbysteph via Instagram, Missy Sue Blog via Instagram, Elstile via Instagram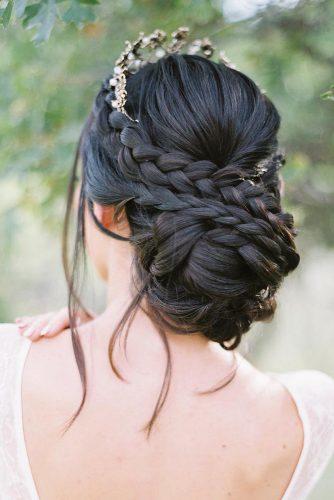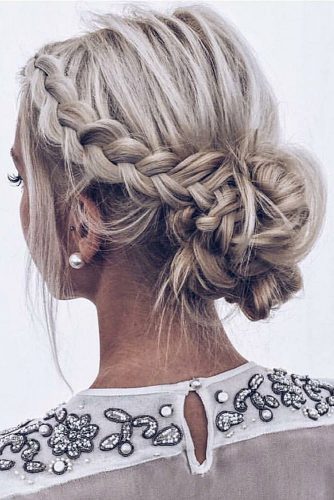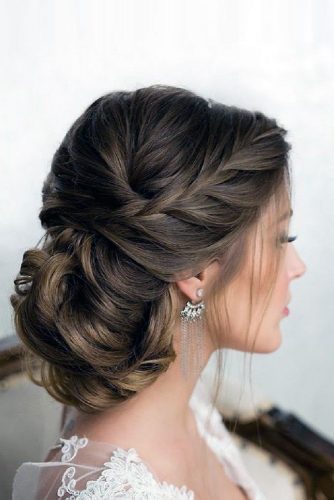 Curly Bridal Upstyle
Check out these curly hair wedding options for the entire bridal party. The bride can choose her own glamorous style with plenty of volume. Add a crystal hairpiece that allows her to stand out.
When it comes to the bridal party you'll want wedding updos for short hair, medium hair, and long hair. It's difficult to choose a hairstyle that's balance. It needs to make everyone feel like a team and offer individuality at the same time.
The curly upstyle is most at home in non-traditional wedding themes such as rustic and boho.
Source: olesya_zemskova via Instagram, juliafratichelli.bridalstylist via Instagram, shiyan_marina via Instagram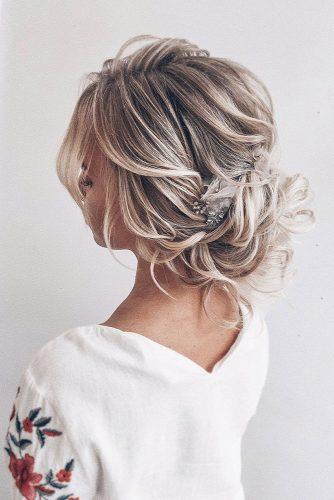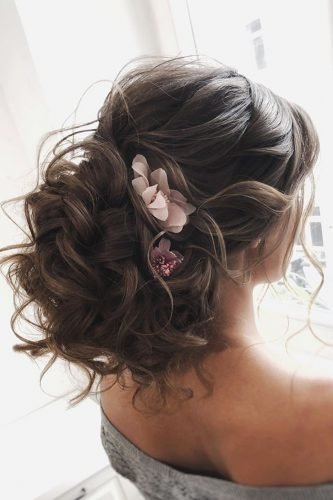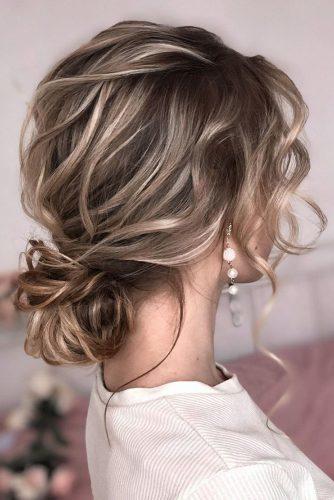 Timeless Wedding Chignon
The timeless wedding chignon is the best option for the bride who desires classic beauty. Wear a chignon with an open back gown. Pair this with a delicate necklace and earrings, and an ornate floral hairpiece.
This is an ideal medium hairstyle for wedding of a traditional theme.
This classic look can change with a few strategic accessories to fit in at a rustic or outdoor weddings.
Source: tonyastylist via Instagram, mpobedinskaya via Instagram, tonyastylist via Instagram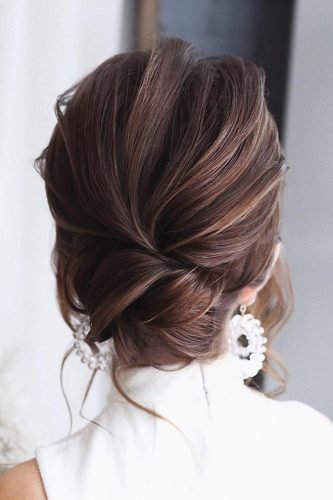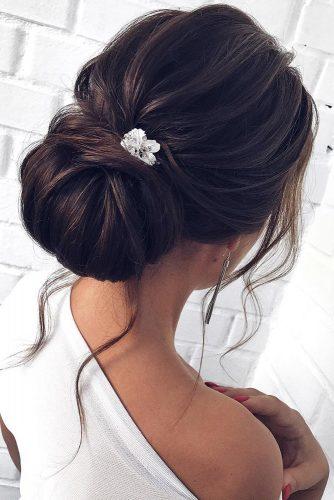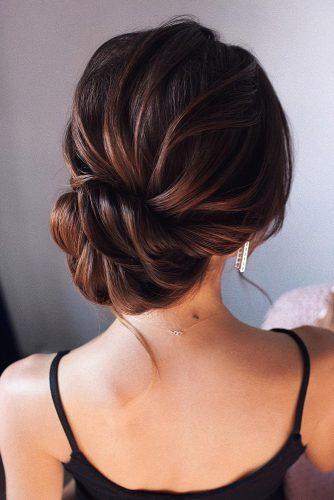 Ballerina Bun Ideas
Ballerina buns are easy wedding hairstyles that have a lot of options. Wear it high and tight for formal and traditional themes. Wrap a halo braid under the topknot to achieve a majestic boho or rustic style. Apply plenty of loose twists into the bun for whimsical, beach, and barn wedding theme appeal.
These classic wedding hairstyles buns pair well with timeless hair accessories. They also pander to that "when I was a girl I dreamed of being a ballerina" fantasy that we all inexplicably had. This matches that Happily Ever After fantasy we've carried with us since we were 8.
Source: tonyastylist via Instagram, hair_vera via Instagram, juliafratichelli.bridalstylist via Instagram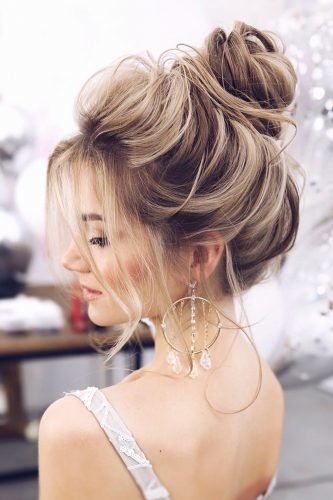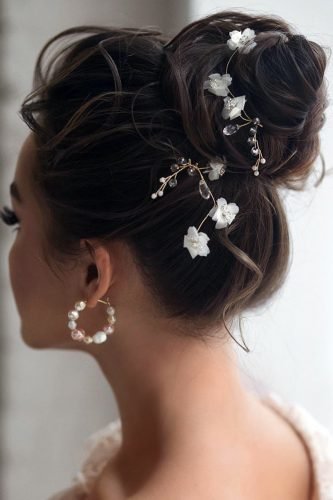 Casual Bridal Hair Ideas
A lot of brides aren't completely into the 200+ guest list wedding ceremony and reception. They much prefer something a little more intimate.
These brides tend to opt for a more casual wedding hairstyle as opposed to a do that eats up an entire month's salary. This makes the statement that for them much most importantly love than a premium gourmet menu.
This wedding updo is best served at backyard, pegan or non-traditional wedding venues.
Source: tonyastylist via Instagram, ashandcobridalhair via Instagram, caraclyne.bridal via Instagram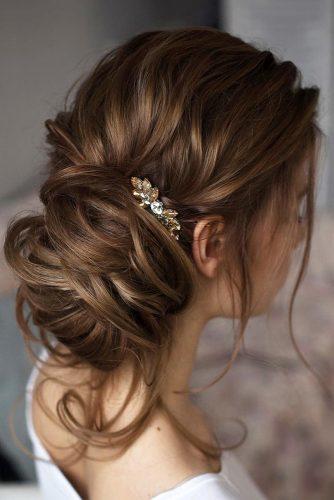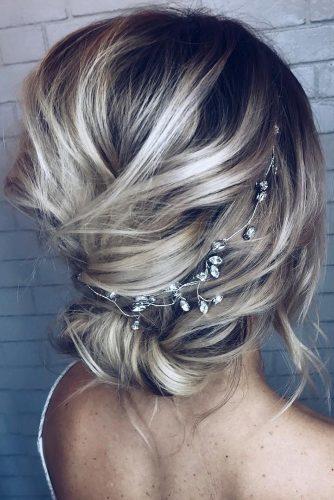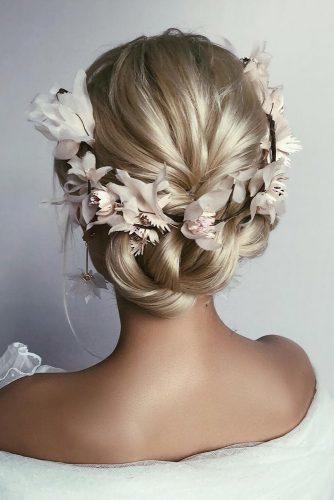 Elegant Updos With Veil
The wedding gown is often considered separate from the bridal hairstyle. For best results, everything should be considered as one complete work of art. That includes the bridal veil.
Designing wedding hairstyles with the veil as a priority starts with how you want to hang it. Veils that hang forward calls for a hairstyle with points of interest towards the back. These are ideal wedding hairstyles for long hair since there's so much to work with.
Pin the veil at the back of short or medium hair to lengthen the appearance of hair. This allows intricate details to shine at the front.
Source: jojo_hicks_mua via Instagram, untamedpetals via Instagram, Nicole Chatham Photography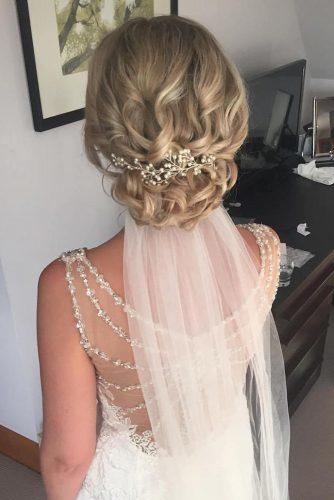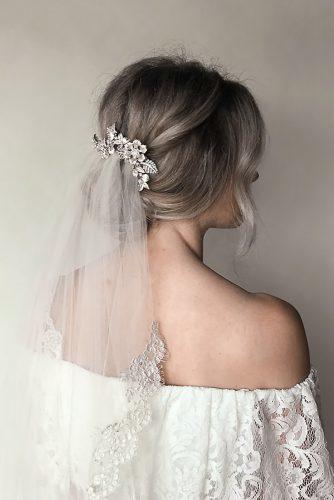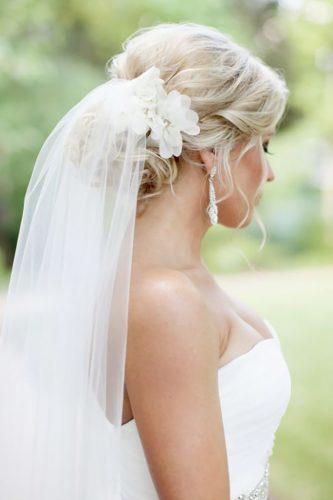 Bridal Hairstyles With Flowers
Choosing wedding hairstyles with flowers is the easiest way to achieve continuity. You can match wedding hair inserts or crowns with the bridesmaids hairstyles, wedding bouquet, and other floral decor.
Beach wedding hairstyles can kick this up a notch by scouting the venue in advance. Ensure that naturally growing flowers are incorporated into the hair design.
Ensure there's no visual disconnect by choosing flowers that compliment your wedding hairstyle. It's also important to consider the veil, gown, jewelry, and other theme decor.
Source: Hội Mẫu Make Up via Facebook, belaya_lyudmila via Instagram, christinechiamakeup via Instagram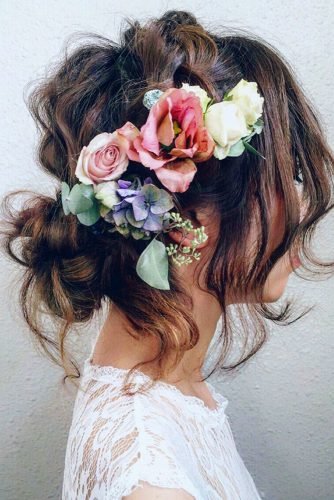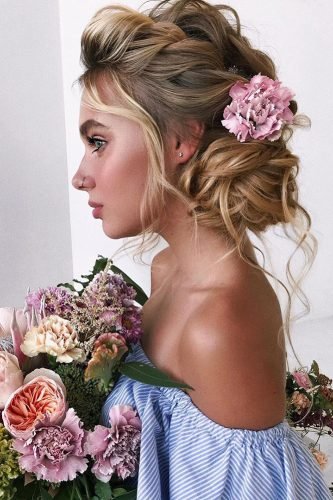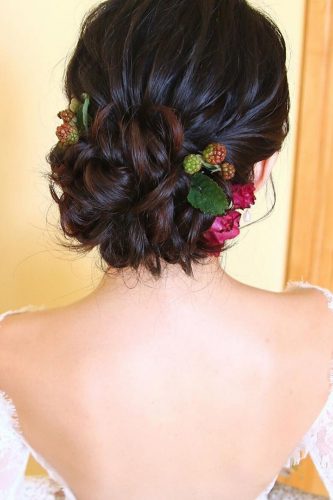 Updos With Wedding Hairpiece
Wedding hairstyles can speak for themselves. But, this is your Big Day which calls for the full princess treatment. Enjoy an additional statement by involving a wedding hairpiece such as;
Crown
Tiara
Pins
Headbands
Combs
Consider your theme when choosing wedding hairpieces. A boho bride with long curly locks may only need tiny flower inserts to achieve the desired impact. Vintage wedding hairstyles call for a more substantial hairpiece.
Even delicate wedding hair accessories can make a huge statement. Make sure to choose these sparingly. Avoid overpowering more important wedding elements like the bride's hair and face.
Source: tonyastylist via Instagram, olesya_zemskova via Instagram, olesya_zemskova via Instagram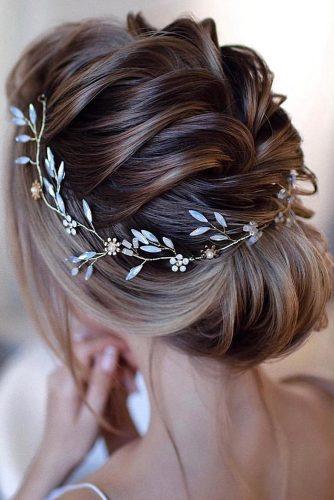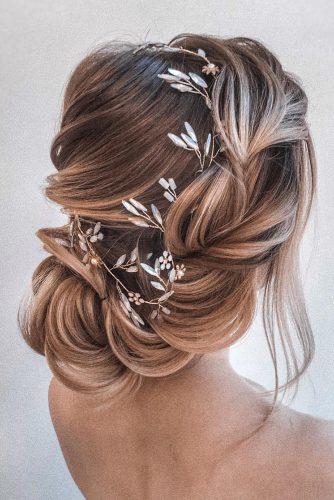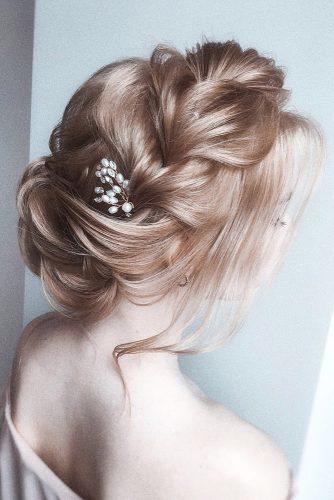 Playful Hair With Flower Crown
Flower crowns are a great choice for black wedding hairstyles. The same goes for Indian wedding hairstyles. Brides desiring a classic medieval look love this style too.
For ethnic brides, flower crowns have a great way of complimenting the bride's hair texture. Flower crowns also pull the entire medieval look together . It achieves the perfect fairytale style.
Be cautious though. Flower crowns have a lot going on and can easily overwhelm medium to short hair. Floral crowns should compliment the bride's hairstyle, not define it.
Source: styles_by_reneemarie via Instagram, anja_schneemann_photography via Instagram, James Looker Photography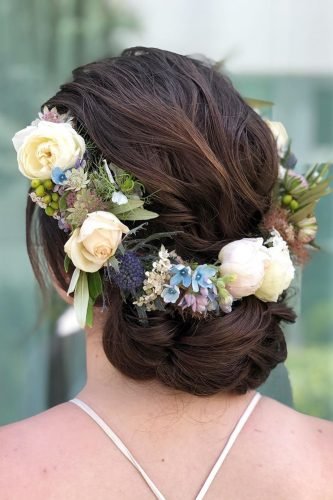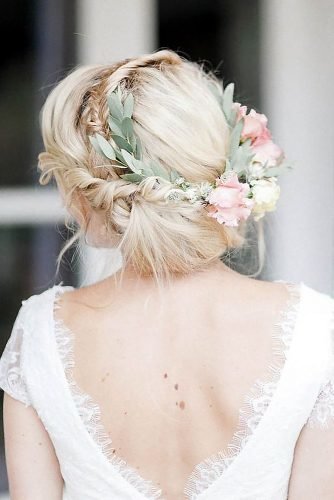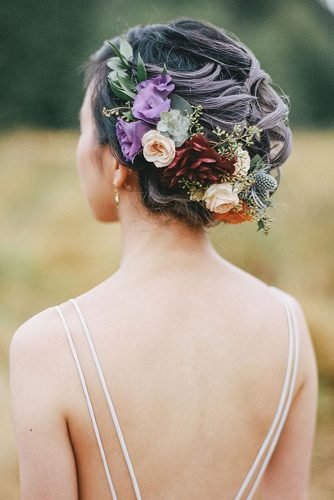 Add Greenery To Your Look
Outdoor weddings are the bride's opportunity to trade colorful petals for fresh greens.
Spring and summertime flowers are already in full bloom. Don't compete with this backdrop. Instead, bridal hair can blend with greenery such as sprigs, ferns, leaves, stems. Add a little baby's breath for an extra splash of cuteness.
That bright pop of green has a magical way of achieving the highest level of freshness. This has an amazing effect on the bride's skin and hair tones. It submerges the bride into a down-to-earth, natural appeal.
Source: heathernan via Instagram, bridalhairbykatelyn via Instagram, mpobedinskaya via Instagram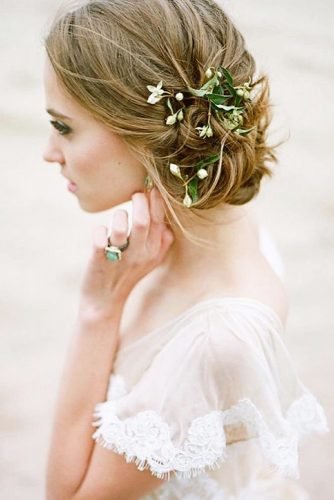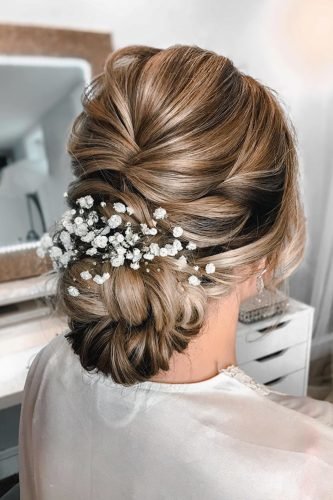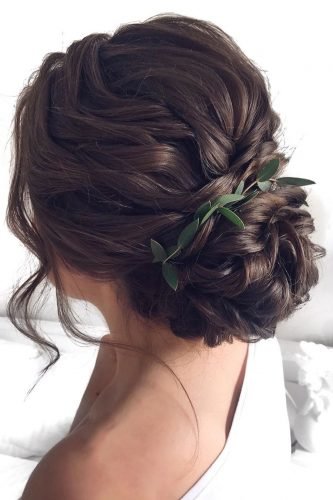 Very Simple Updos
Many brides want to own their wedding. They're fully in charge of their DIY centerpieces, reception menu, and anything else they can craft with their hands.
If you include the wedding hairstyle on this list, consider a simple updo. You can do this yourself with professional results at glamorous wedding themes. All you need are – depending on your hair length – 3 or 4 clear hair elastics and a handful of bobby pins.
BRIDAL TIP
Firstly, curl your hair, then part your hair as normal. Keep the sections of hair that lie in front of your ears to the front, and pull the rest of it to the back in a ponytail. Create a hole just above the elastic, and pull the ponytail through it to create a topsy tail. Keep the elastic in place and pull the upper portions of your hair upwards to create some volume.
Secondly, grab those front sections and pull them to the back of your head over the first elastic. Repeat the first topsy tail process once, and then again but using the first hole.
Lastly, roll the rest of your hair into a bun that's lead through the original hole for amazing twists and texture.
In conclusion, feel free to allow some strands to fall to the side of your face for a softer look.
Source: ulyana.aster via Instagram, betsyblue via Instagram, ksenya_makeup via Instagram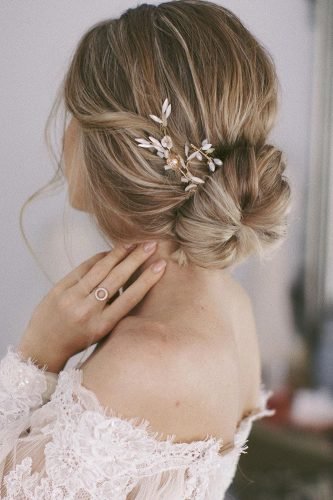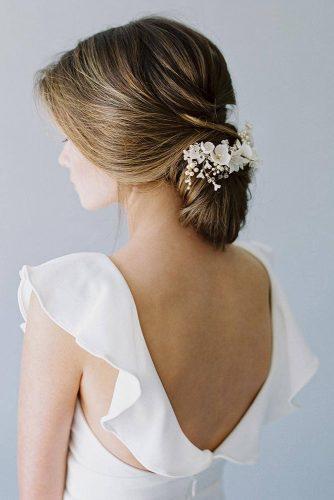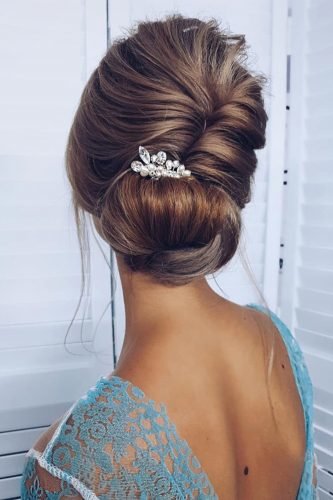 Sleek Updos for Chic Brides
The updo is classic and suitable for almost every wedding occasion. Achieve a higher level of sophistication by adding some sleekness to the look.
A low bun elongates the neck, exposes the shoulders, and makes an open back gown even more beautiful.
Pair this with an A-Line gown for the most classically chic look. Or, dress it up with florals or a pin for a rustic of boho theme.
Source: nadigerber via Instagram, bridal_hairstylist via Instagram, hairandmakeupbysteph via Instagram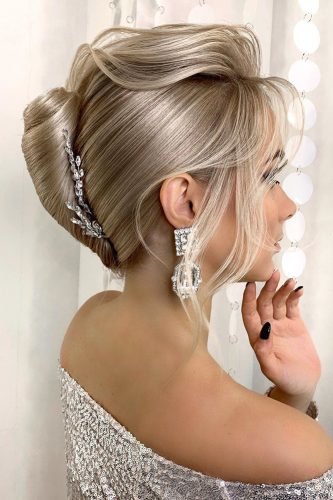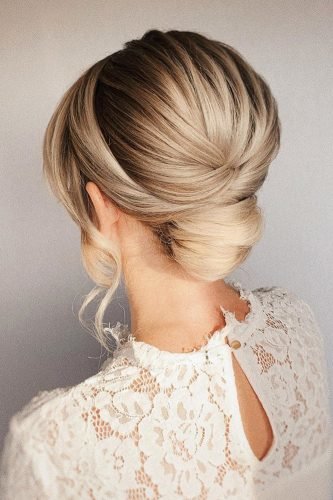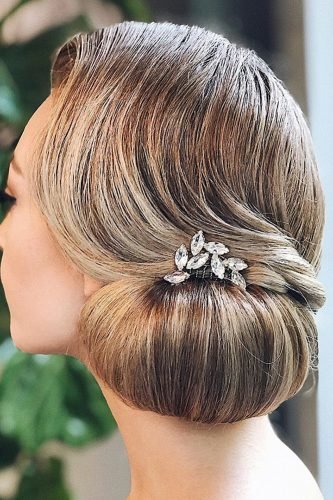 Hairstyle With Velvet or Lace Ribbon
Flowers and gems are go-to wedding hair accessories. Some brides prefer the avant-garde approach. For this, we recommend trying out some lace or velvet.
You'll be able to achieve the same characteristics as other wedding hair accessories. But you'll enjoy the benefit of unique color and texture.
Depending on your other wedding theme choices, this look can be progressive and edgy. It can also fit perfectly into a retro wedding.
Source: shiyan_marina via Instagram, kristin_ess via Instagram, i_pasechnik via Instagram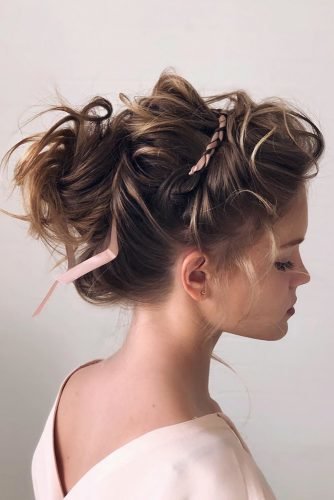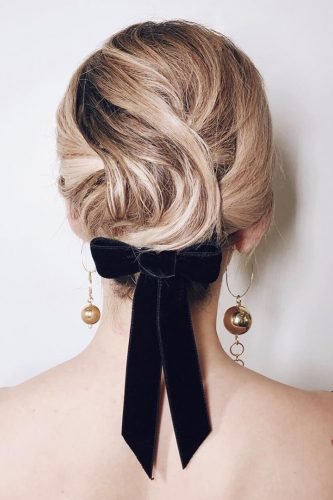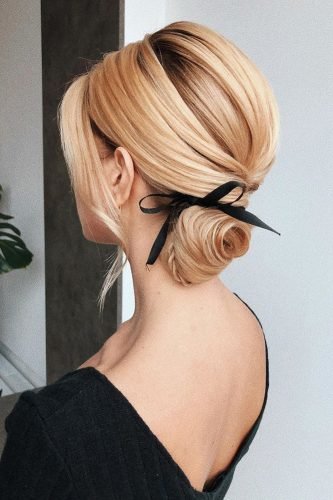 Twisted Wedding Hair Style
Choose an asymmetrical twisted updo to add some flare to your wedding day hairdo. When it comes to weddings, "too perfect" is a thing. Twisted wedding hair lets brides shirk uncomfortable formal hairstyle options. They walk the aisle with confidence and comfort instead.
Our favorite bridal hair styles are an fishtail braids or french twisted braids. These are perfect for sweeping up flowing locks into artistic shapes.
Source: sarahwhair via instagram, pearly.hairstylist via Instagram, tonyastylist via Instagram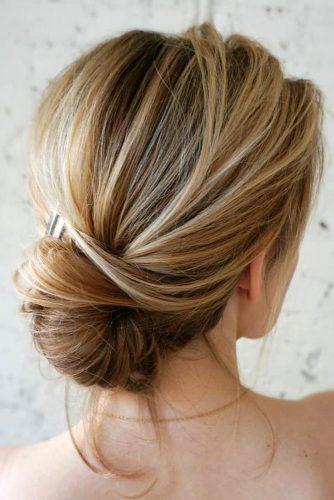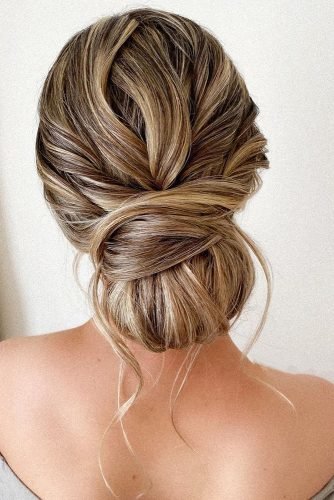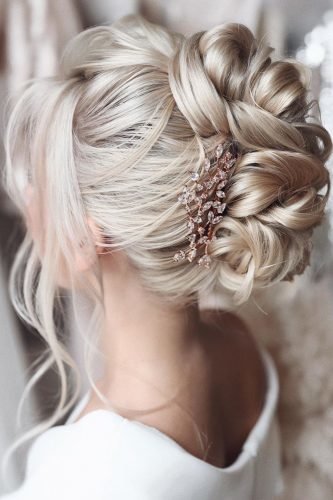 Extremely High Volume Updos
Medium and long hair can be extremely fun to pile up into layers and layers of curls and twists. High volume updos have a swanky appeal that no other wedding hairstyle can match.
This is a powerful choice for brides that want to drop jaws when 'Here Comes The Bride" starts. The high volume wedding updos is too fancy for a casual wedding theme. But, it feels right at home for brides who want to exude a queen-like aura at their traditional wedding.
Source: lenabogucharskaya via Instagram, elstile via Instagram, tatianasolne4naya via Instagram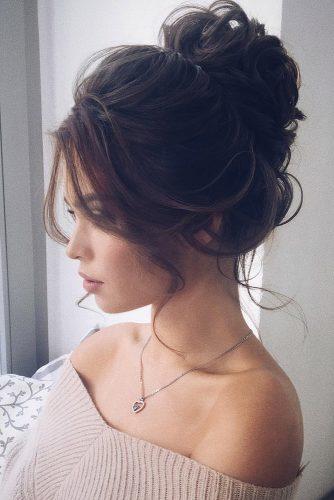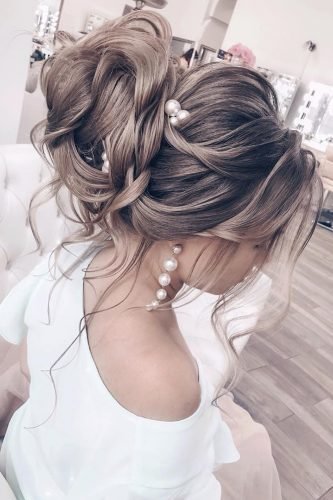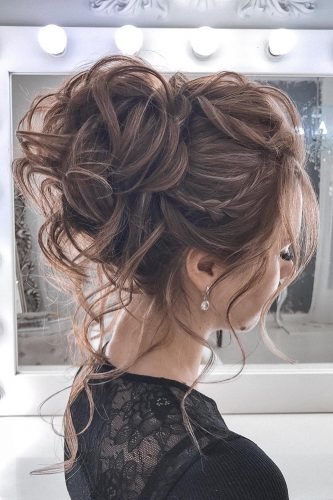 Wedding buns remain one of the most popular wedding hairdos for quite a while. No matter what your wedding style is – you are going to love one of these inspiring wedding hairstyles! They look especially stunning with a mermaid dress or simple empire dresses.
Soft Face Framing Updos
Every bride has a fairy tail princess vision in her mind. Face framing layers plays a major role in making this happen. Consult your hairstylist about your face shape and the best wedding updos options.
Your cheekbones, face length, roundness, and jawline can change.
A good rule of thumb is to choose the opposite frame from your facial features. For example, if you were born with soft features, choose a hairstyle that features an angled frame. Square or angular facial features call for a rounded hair frame. This contrast allows your best features to pop.
Source: hair_vera via Instagram, juliykravchuk via Instagram, hair_vera via Instagram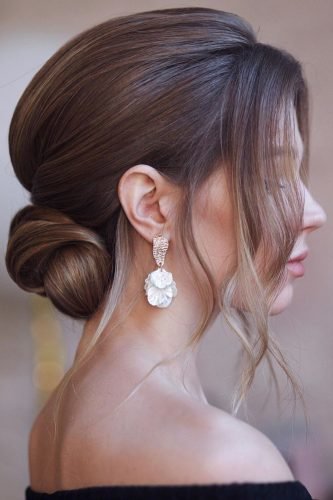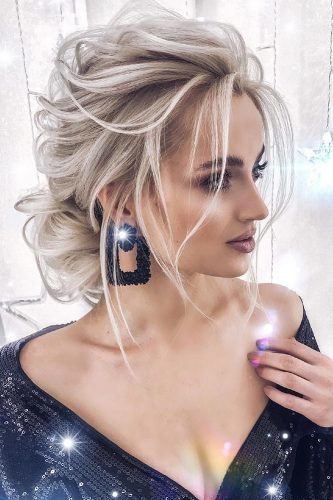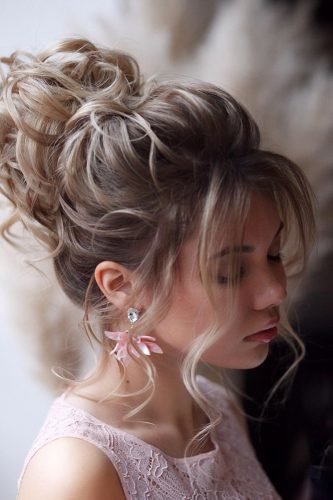 Conclusion
The ultimate wedding updo is simple to choose. Consider your wedding theme, bridal gown, bridesmaids, and accessories. Balance these with a wedding hairstyle that clearly takes more time, attention, and expertise than your day-to-day look. You'll find something perfectly beautiful.
source: Weddingforwar