In our opinion, one of the best Valentine's Day gifts you can give yourself is a fabulous nail. Here, we've rounded up the best of the best Valentine's Day nail designs in the hopes that they'll inspire your next trip to the nail salon or at-home mani. The goal: Make you fall in love with your nails again…while you're falling in love with love itself!
So, where to begin? Well, we suggest thinking about how "out there" you're willing to be this year. Do you want to go for a more subdued, understated look, or are you ready to take on a challenging, intricate nail art project that might take a little more time (and confidence)? You'll also want to consider how comfortable you are wearing each of these looks out of your home. After all, to really get the most bang for your buck and make all that extra effort worth it, you might want to wear those beautiful new nails of yours to work the week after February 14.
But once you've decided on the level of difficulty and dimension you're going for, it's time to get creative and simply have fun with the whole process! Put on a Valentine's Day movie, press pause on all your other plans for things to do on Valentine's Day, take out your nail art kit, and get to work. And if you're spending Valentine's Day with your gal pals, this is the perfect activity to do with friends on Valentine's Day.
1. Heart-Shaped Valentine's Nail Design
The best nail designs are the ones that are simple, but visually impactful. This one—pardon the pun!—nails it.
2. Dusty Rose Valentine's Nail Desig
Geometric nails don't have to be stark and straight! These ones feature a modern design, but incorporate a more free-flowing swoop as well.
3. Tic-Tac-Toe Valentine's Nail Design
Show off your artistry with the scattered hearts and Tic-Tac-Toe game on this design. They're surefire conversation starters.
4. Gold Accented Valentine's Nail Design
We're partial to the understated vibe of these Valentine's Day nails. A dash of gold keeps them exciting.
5. Geometric Valentine's Nail Design
Different-colored nails, maximum shine, and a hint of sparkle is a stunning combination—especially when the colors complement each other as nicely as the ones shown here.
6.Glittery Valentine's Nail Design
Not a nail art pro just yet? No problem! Keep things simple and lovely with a glittery, hot pink look.
7. Polka Dot Valentine's Nail Design
Just because it's Valentine's Day doesn't mean you have to go for pinks and reds! Stick with a black-and-white design that pairs well with just about any outfit.
8. Barely There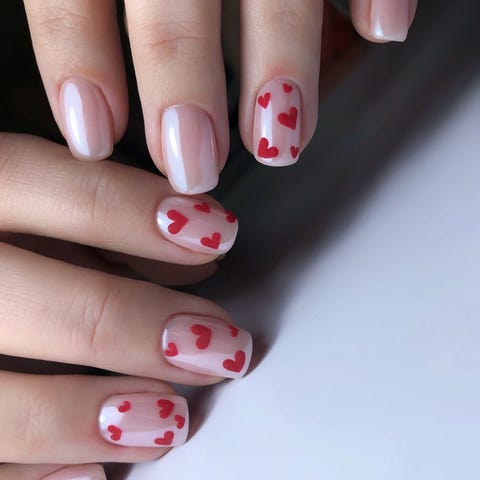 This low-maintenance look is understated yet cute.
9. Sweet and Simple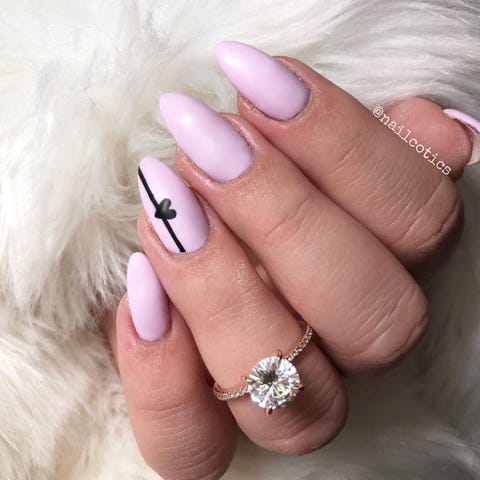 Are you newly engaged this February? (Or maybe you just adore your ring!) Show off your bauble with a pretty pastel and a delicate design.
10. Cute Characters
These itty bitty figures are just absolutely adorable!
11. Ravishing Red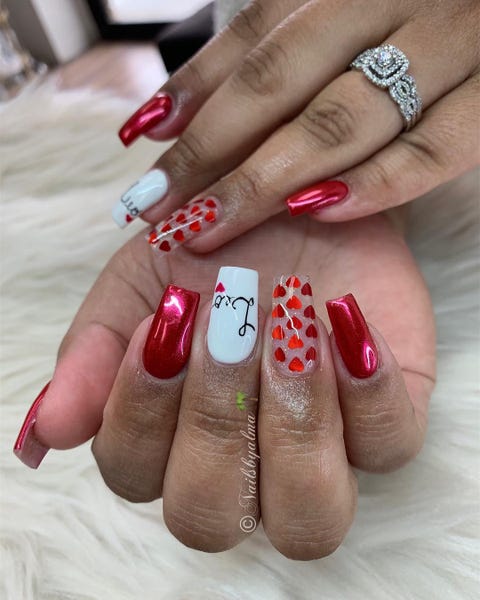 Customize this look with your own zodiac sign.
12. Foil Hearts
This shiny set is perfect for pink lovers.
13. Lover's Kisses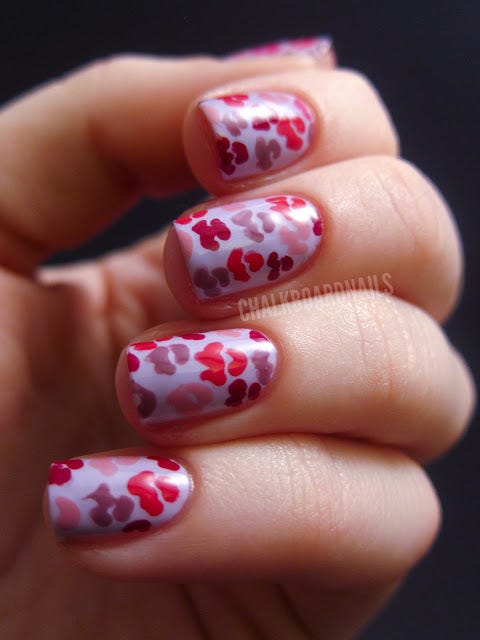 Use any colors you'd like—or go with the same scheme as this blogger—to remake this kissable idea.
14. Love Letters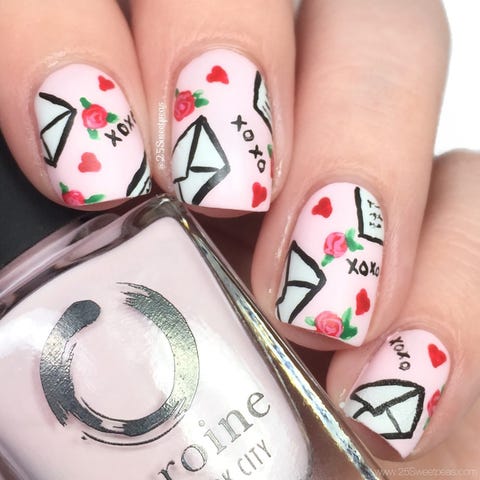 These teeny tiny envelopes are just too cute.
15. Hedgehogs in Love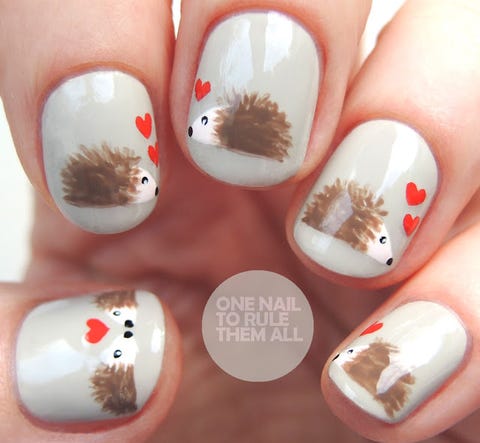 These cute little critters are just absolutely adorable. Check out the kissing duo on the thumbnail!
16. Conversation Hearts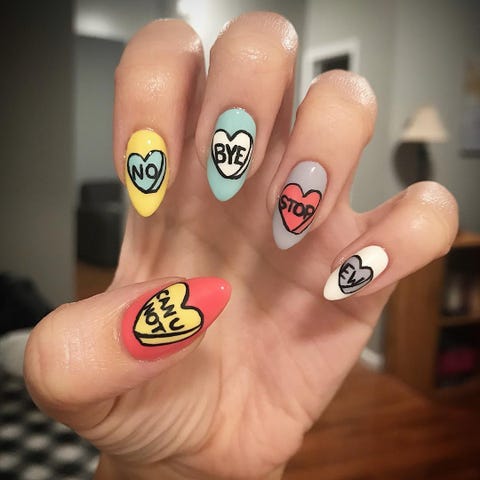 Whether you love or hate the candy, everyone can agree these pastel nails are just about as fun as it gets.
17. Be Mine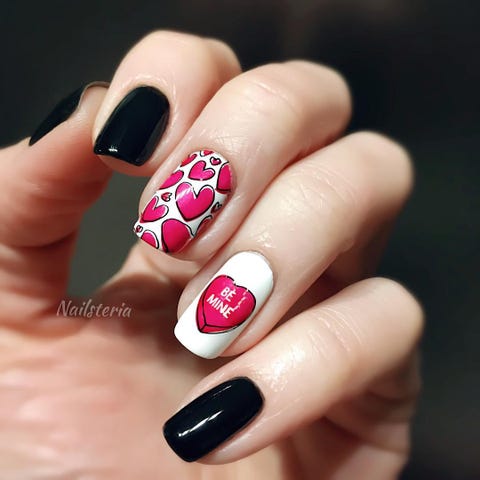 Even if you don't have a steady hand, you can recreate this look using a stamp like this nail artist.
18. Pretty and Pink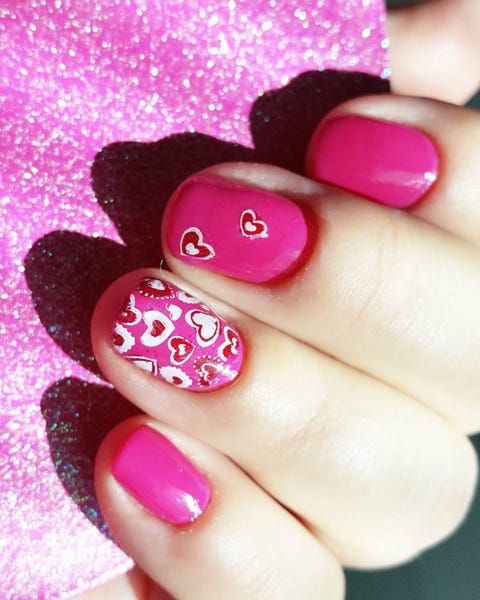 Take your accent nail just a little bit further by adding a couple of hearts on your middle nail, too.
19. Chocoholic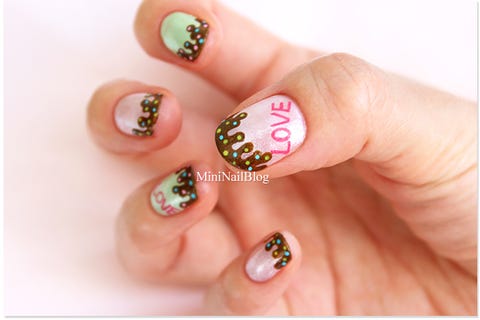 You'll want to lick your fingers clean after applying this chocolatey design.
20. Confetti Hearts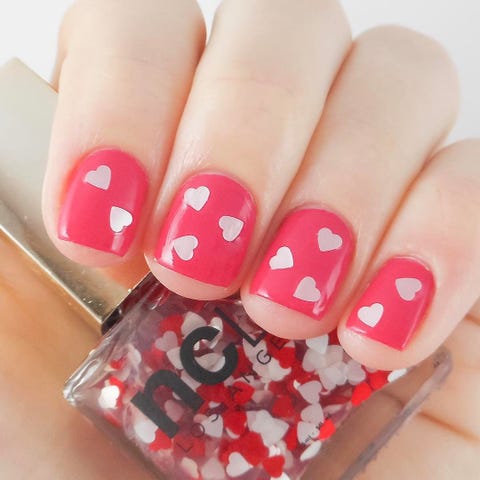 Even beginners can create this simple look. All you need is the confetti-filled top coat!
21. High-Gloss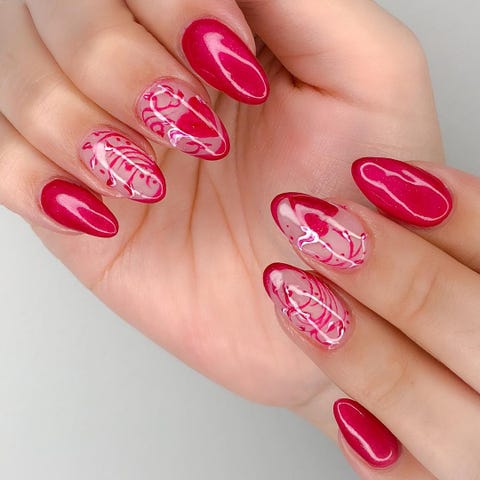 This super shiny design would look stunning in any shade of pink or red.
22. Red and Black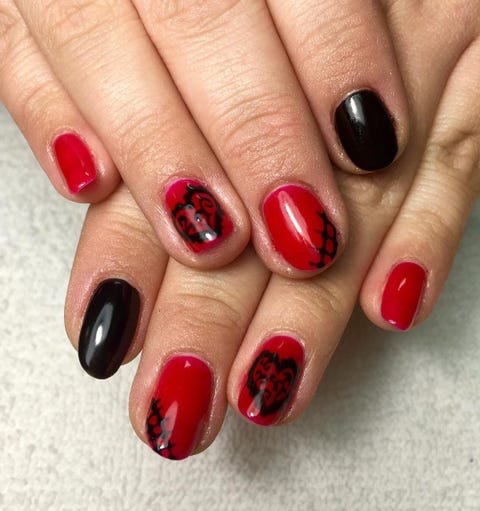 These lacy looking nails will have you feeling extra fierce on February 14.
23. Nothing but Nude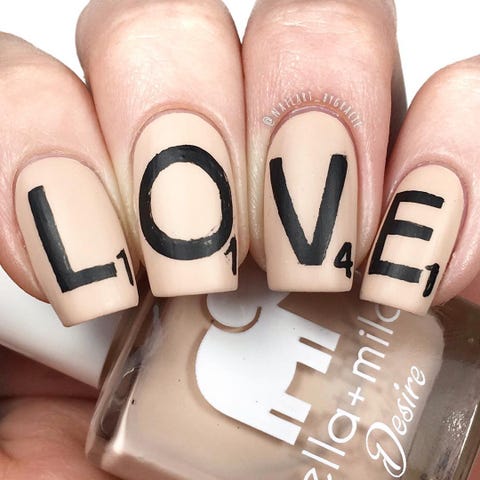 If pink and red fingers are too bold, try this Scrabble-board inspired look.
24. Varnished Variety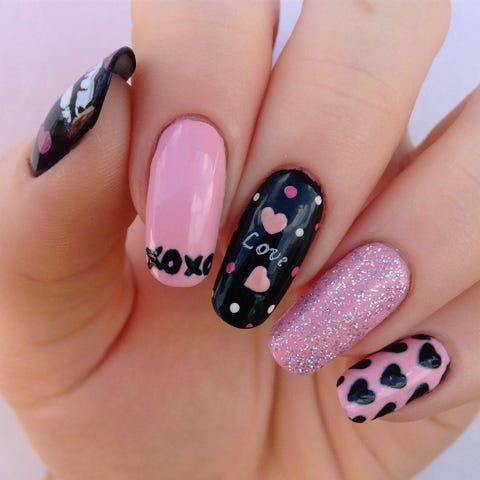 Can't nail down a design? Get inspired by this artist and make every finger a little bit different!
25. Cute Cacti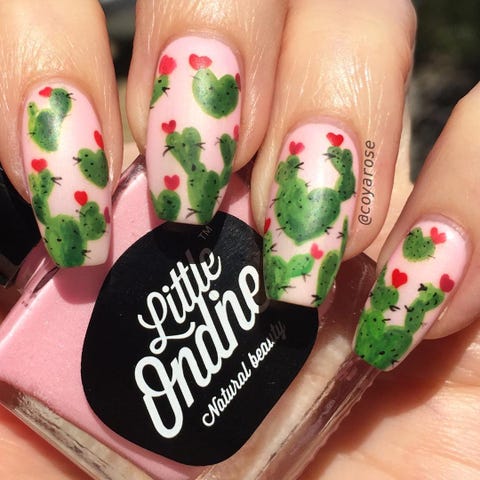 Show off your green thumb—and fingers!—with these heart-adorned succulents.
26. Negative Space
This artist proves that letting your natural nail show can be oh so gorgeous.
27. Rhinestone Heart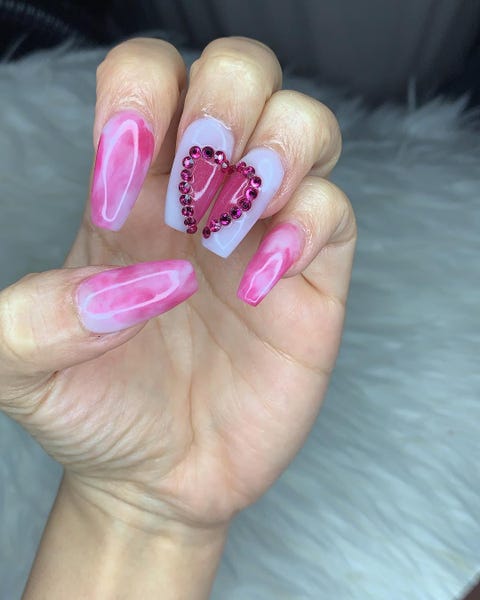 The most glam gals will love this studded shape.
28. Realistic Roses
These flowers will last far longer than any over-priced bouquet.
29. Girly Girl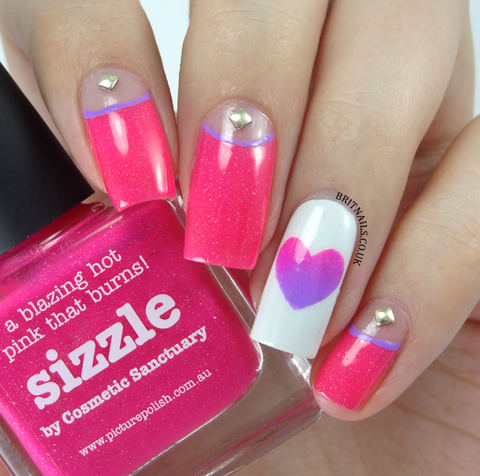 Shiny studs, hot pink, and an ombré accent nail will ensure your manicure gets noticed!
30. A Little Bit of Everything
Made with bright colors, a little shine, a hint of sparkle, and tiny ornaments—these acrylics definitely have it all going on.
31. Sharp Shape
A simple design balances out the severe shape.
32. Seriously Sparkly
Your nails will sparkle and shine from every angle with this ultra-glittery idea.
source: countryliving