Who hasn't belted out to this chart-topping song? Katy Perry slays not only with her vocals and catchy songs but also with her quirky and fun style. Her hair looks range from a mix of vintage styles and fun colors to sleek 'dos with a modern twist.
1. The Side Cut
Katy Perry rocked this stunning 'do at the 2017 iHeartRadio Music Awards. The dark roots add depth to her tresses. The blonde hair brings out her eye color and compliments her skin tone. The deep side lift looks extremely edgy and cool.
2. Blonde Side Cut With Blunt Bangs
Katy Perry pulls off the side cut like a queen! The layered top is combed forward to create the blunt bangs. The ends are cut wispy to make her hair look fuller. The hairstyle looks edgy and chic while drawing attention to her face.
3. Short Blonde Pixie
The layered pixie has captured the attention of women all over the world! It looks fierce and modern. It is a stylish hairstyle that flaunts your face shape and features. The blonde layers and makeup bring out Katy's gray eyes.
4. Jet Black Volume Curls
Katy Perry has described her natural hair color as " dishwater squirrel blonde." So, it comes as no surprise that she colored it black at one point in time. She looks like a natural black-haired beauty here. The curls add volume and fullness to her tresses.
5. Blonde Lion Lob
This blonde mane looks stunning on Katy Perry. The stray hair adds a rough texture to her hair, and the layers make it look thick. This mane-shaped lob frames her face beautifully.
6. Long Jet Black Hair With Middle Parting
The middle parting adds height to Katy Perry's face, making it look longer. The lifted sides near the middle parting balance out the added height. The jet black hair makes her gray eyes and fair skin pop.
7. Dark Purple Curls
Katy can pull off any hair color, but I love how amazing she looks with dark purple hair. It adds a modern and chic touch to a classic red carpet hairstyle. It also goes well with her skin tone and eye color. The curls add bounce to her tresses.
8. Tight Knotted Updo
This hairstyle showcases Perry's oval face. It flaunts her eyebrows, eyes, nose, and mouth. The hairstyle works because of her face shape. This hairdo requires a lot of hair gel, so be ready to slather it on generously.
9. Tight High Ponytail
The high ponytail looks brilliant on Katy Perry. The ponytail acts as a facelift and draws attention to her cheekbones. You will need to apply mousse to give your ponytail that sleek look.
10. Dark Rooted Asymmetrical Bob
You can see Katy's natural blonde shade at the roots here. The light soft blonde hair brings out her porcelain skin. The asymmetrical bob draws attention to her neck, making it look longer.
11. Messy Full Curls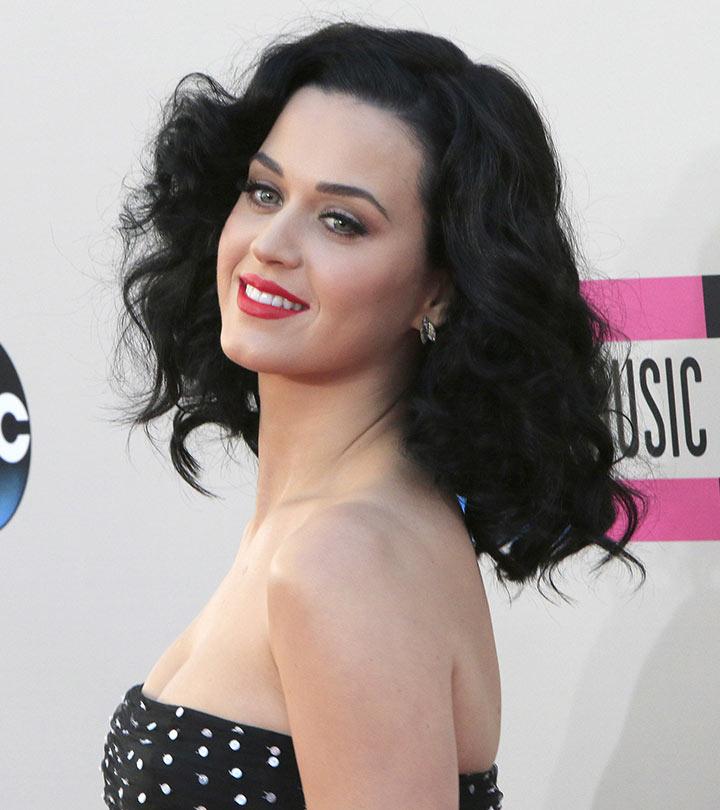 Messy is good, and Katy proves it with this hairstyle! While the curls add volume to her hair, the stray and frizzy hair adds texture to it. The jet black hair, paired with the red lip color, makes her skin look paler. This makes her gray eyes pop
12. Double-Twisted Space Buns
Katy Perry rocked the double-twisted space bun hairdo at the 2013 iHeartRadio Music Awards. It looked playful and pretty at the same time. After wrapping the main bun, the rest of her hair was twisted and wrapped around once more to create the outer base of the space buns. Such brilliant details make this a great hairstyle.
13. Blue And Purple High Ponytail
Only Katy Perry can pull off this dual-colored ponytail with such pizzazz. The blue and pink shades work with her skin tone and look natural on her. To recreate this hairstyle, you will need to use mousse or gel, depending on your hair's thickness.
If you had to try any of these quirky and vintage hairstyles sported by Katy Perry, which one would it be? Comment below to let us know!
14. Intense Purple Updo
Katy Perry looks phenomenal! I like the distinction between the purple bun and her sleek black hair. Use a chignon bun-maker to create the big bun. It is available in different sizes, so pick one according to the length of your hair.
15. Vintage Pin-Up Hairdo
Katy Perry brings this classic '20s classic bob to life. She wears it so naturally. The black and deep purple hair colors work well with her skin tone. They make her gray eyes pop. The blingy vintage headband seals the deal!
source: Stylecraze